NEMA, Red Cross Relief Camps Open In Baga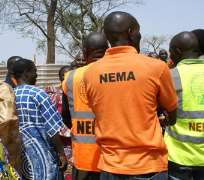 SAN FRANCISCO, April 25, (THEWILL) – Following the humanitarian crisis caused by the killings, weekend, in Baga, Borno State, the National Emergency Management Agency (NEMA) and the Nigeria Red Cross, Thursday, opened their camps in the border town to provide emergency relief services for those displaced as a result of the crisis.
And following the order of President Goodluck Jonathan, NEMA also started the distribution of relief materials to the people of the border town.
Materials being distributed include food items, mats, clothing materials, toiletries , among others while some of the victims who needed medical attention were also attended to by NEMA and Red Cross officials.
NEMA and the Nigeria Red Cross, it was learnt, arrived the town on Wednesday and have started attending to the internally displaced persons at the camp set up at the Local Government clinic in the town.
NEMA Director of Rescue and Search Operation, Air Commodore Charles Otegbede, who led a delegation of his agency officials from Abuja, said they were in the town following directive from President Jonathan to provide immediate relief to the affected victims.
Early on Wednesday, the North East zonal coordinator of the agency, Alhaji Mohammed Kanar, had led a team of the agency to some villages where some of the victims were taking shelter and NEMA was able to convince them to come to the camps.
Aisha Sanni Gogobiri, a 30-year- old mother of seven, is among those brought to the camp by NEMA. Maintaining that her husband was still missing , she said she was brought to the relief camp along with her seven children by NEMA officials.