Two Policemen, Five Others Killed In JTF, Boko Haram Clash In Gashua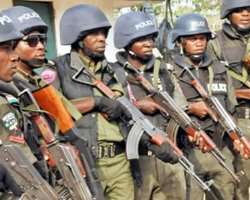 SAN FRANCISCO, April 25, (THEWILL) – Two policemen and five other persons were reportedly killed on Thursday in Gashua, Yobe State, as men of the military Joint Task Force (JTF) engaged suspected members of Boko Haram in a guel duel.
Following the clash, the Yobe State Government has imposed a curfew on the town.
Located just 185 kilometres from Damaturu, the Yobe State capital, Gashua is considered as one of the strongholds of the notorious sect.
JTF, in a statement issued in Damaturu, disclosed that the clash with the Boko Haram gunmen occurred in the early hours of Thursday 25 just about midnight when the terrorists attacked JTF location as well as the Police Area Command and the Divisional Police Station in Gashua town.
Spokesman of the JTF, Lt Eli Lazarus, who signed the statement, said JTF men were able to repel and contain the attack on its location.
He disclosed that reinforcement was however dispatched swiftly and JTF was able to engage the terrorists during which two police officers were killed while five of the suspected terrorists lost their lives.
Lazarus said some of the suspected terrorists escaped in two vehicles with injuries while others are believed to still be in the town.
" The fleeing terrorists took away one police Hilux vehicle fitted with siren at the top, one other vehicle, police uniforms and other items from the Police stations. Items recovered include one Toyota Corolla car, one Peugeot 406 saloon car, one Isuzu Pick-up van, one AK 47 rifle, one Police anti-riot gun, one locally made pistol, one rocket propelled grenade (RPG) bomb, one generating set and large quantity of ammunition," he said.
The statement however also enjoined the public to be mindful of the fact that the terrorists are still around and are bent on wreaking havoc and instill fear in law abiding citizens in order to make life unbearable for them.
"Let no one be in doubt, however, that JTF would continue to respond appropriately to such attacks. The Task Force urges all law abiding citizens to remain calm as it is currently on top of the situation. A cordon and search operation is currently on going in Gashua town," the JTF spokesman said.