Exclusive: Verizon Eyes $100 Billion Bid For Vodafone's Wireless Stake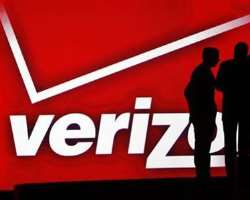 Verizon Communications has hired advisers to prepare a possible $100 billion cash and stock bid to take full control of Verizon Wireless from its partner Vodafone, two people familiar with the matter said.
Verizon, which already owns 55 percent of the company, which is the biggest U.S. wireless carrier, has not put a proposal to Vodafone yet but it has hired both banking and legal advisers for a possible bid, the sources said.
Verizon, which has made little secret of its wish to buy out its British joint venture partner, has ramped up the pressure in recent months, and London-based analysts and investors interpreted the latest move as an attempt to force Vodafone in to serious talks.
The two sides have previously held high level talks to discuss possible options for their holding, another person familiar with the situation has told Reuters.
The sources said Verizon was now ready to push aggressively for a deal. It hopes to start discussions with Vodafone soon for a friendly agreement but is prepared to take a bid public if the British company does not engage, one of the sources added.
"I don't really see this as a surprise," one of Vodafone's 15 largest investors told Reuters, on condition of anonymity. "The talk about this deal has been quite intense recently. We knew that Verizon were definitely a keen buyer and that Vodafone were a keen seller."
Vodafone Chief Executive Vittorio Colao has so far said he has an open mind on whether to sell the group's 45 percent stake, which has come to make up around 75 percent of the firm's value in recent years as its core European business suffered.
One of the main sticking points to a deal though has been the belief that Vodafone would incur a tax bill of around $20 billion if it sells its holding, meaning Verizon would have to pay a high price to make it worthwhile for Vodafone to walk away.
But the sources said any deal would be structured in such a way that the eventual tax bill would likely be $5 billion or less. The news sent shares in the British group up 1.9 percent to 197 pence in early trading on Thursday in a London market down about 0.1 percent.
"The tax problem has always been the issue. If a way can be found around that, then it is highly likely that a deal will be done," the top-15 investor said.
One other way to avoid the tax issue would be for the two groups to merge, but Verizon said earlier this month that it was not looking to buy or merge with its partner.
Verizon, which is benefiting from record low interest rates as well as its own strong stock price, is instead confident that the company can raise about $50 billion of bank financing, the sources said. It plans to pay for the rest of the deal with its own shares, they added. The sources asked not to be named because the discussions are confidential.
BOARD ACTIVITY
Verizon's board is expected to discuss details of a potential Verizon Wireless buyout next week at a regularly scheduled meeting being held ahead of the company's annual shareholder meeting, one of the sources said.
Verizon spokesman Bob Varettoni declined to comment, but pointed to the U.S. telephone company's statement earlier this month, in which it said it would be a willing buyer of Vodafone's share of their Verizon Wireless venture.
Vodafone declined to comment.
Analysts have said a sale of Verizon Wireless would enable Vodafone to return cash to shareholders, purchase fixed-line assets in Europe or potentially make the company an attractive takeover target for other telecom giants such as AT&T Inc.
Shares in Vodafone have risen 26 percent this year on speculation that it could finally be ready to sell its stake, but most analysts had put the value of the Vodafone holding at nearer $120 billion.
Taking full ownership would give Verizon, which is reliant on the Verizon Wireless operations for growth, a lot more flexibility with the cash generated from the wireless business.
Verizon came close to doing a deal in 2004, when Vodafone tried to buy AT&T Wireless but lost the auction to Cingular. That deal would have allowed Vodafone to bring its brand across the Atlantic and would have required it to sell its 45 percent stake in Verizon Wireless.
Any deal now, if it were to happen, would come at a time when the telecommunications industry is undergoing a fresh round of consolidation activity. MetroPCS Communications Inc shareholders voted on Wednesday to approve a merger with No.4 U.S. wireless service provider T-Mobile USA, a unit of Deutsche Telekom AG.
An earlier attempt by Deutsche Telekom to sell T-Mobile to AT&T for $39 billion in 2011 was blocked by U.S. antitrust regulators. Verizon would be unlikely to face any such obstacles in a Verizon Wireless buyout.
Meanwhile, Dish Network Corp, the No.2 U.S. satellite TV provider, last week offered to buy wireless service provider Sprint Nextel Corp for $25.5 billion in cash and stock, challenging a proposed deal between Sprint and Japan's SoftBank Corp.
The major changes to the industry mean the U.S. market could become more competitive in the next two years, which might push Vodafone's Colao into a calculation on the right time to sell out.
Some analysts believe the Italian, who has won praise for his dealmaking during his almost five years at the top of the group, will try to hold on to the asset for a little longer, until he sees some sign that his core European businesses are starting to stabilize.
Verizon's shares have risen about 20 percent so far this year as its wireless business has been easily outperforming its smaller colleagues in terms of profitability and customer growth, and on rising hopes that it will buy the rest of Verizon Wireless. Investors say the conditions for a deal have improved because of Verizon's strong results, its share price gains, and low interest rates.
Verizon shares are valued at 17.9 times forward earnings, compared with 11.8 for Vodafone.
REUTERS