SECRETARY-GENERAL WELCOMES FURTHER POSITIVE CONCLUSIONS REACHED AT ADDIS ABABA MEETING BY SUDAN, SOUTH SUDAN ON IMPLEMENTATION OF SEPTEMBER 2012 AGREEMENTS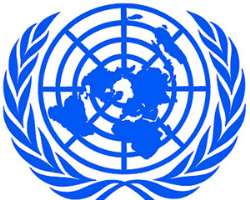 SECRETARY-GENERAL WELCOMES FURTHER POSITIVE CONCLUSIONS REACHED AT ADDIS ABABA MEETING BY SUDAN, SOUTH SUDAN ON IMPLEMENTATION OF SEPTEMBER 2012 AGREEMENTS
NEW YORK, April 25, 2013/African Press Organization (APO)/ -- The following statement was issued today by the Spokesperson for UN Secretary-General Ban Ki-moon:
The Secretary-General welcomes the further positive conclusions reached by the Governments of Sudan and South Sudan on implementation modalities of the 27 September 2012 Agreements at meetings held under the auspices of the African Union High-Level Implementation Panel in Addis Ababa on 22 and 23 April 2013.
The Secretary-General is also encouraged by the start of the direct talks today between the Government of Sudan and the SPLM/North on the basis of the African Union Peace and Security Council and the United Nations Security Council resolutions. This demonstrates the commitment of both sides to find a peaceful solution to the conflict in Southern Kordofan and Blue Nile states.
The Secretary-General urges the parties to agree on an immediate cessation of hostilities in order to allow for humanitarian access to the civilian population in the affected areas and to create an atmosphere conducive to a durable political solution of the conflict.