OBI REWARDS ACADEMIC BRILLIANCE, PRESENTS CHEQUE TO SCHOOL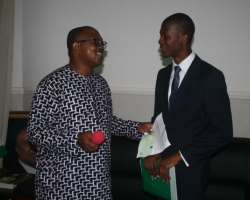 Governor Peter Obi has presented a cheque for nine hundred and ninety - five thousand Naira to Mr. Edum Chukwuebuka Chidozie for a two week International study in Switzerland.
Mr Chidozie a final year law student of the University of Ibadan, led the University team to two successful International competitions in Demark and Geneva on aspects of law organized by International Chamber of Commerce and World Trade Organization.
Governor Obi disclosed that the State government would equally sponsor the best graduating student of University of Nigeria Nsukka this year whose result has been acclaimed the best in recent time.
Chidozie expressed gratitude to the Governor for the gesture and noted that the Governor has continued to give people of the State a sense of pride.
It will be recalled that the State government is equally sponsoring in the University the best student in last year's NECO and WAEC who is studying medicine in the University of Ibadan.
Governor Peter Obi has also presented another cheque for ten million naira to the school of Medical Laboratory Science & Technicians, Immaculate Heart Hospital, Nkpor for the on-going three storey Hostel Block project at Umuoji.
Governor Obi said the gesture was in line with the partnership with the missionary to improve and entrench quality Health and Education sectors.
The Principal of the School, Reverend Sister, Maria Uzochukwu Ozor observed that posterity will benefit from efforts and commitment of the Governor to enthrone a new order.
Also speaking, the Traditional ruler of Umuoji, Igwe Cyril Emueze noted that Governor Obi was working to provide a progressive and sustainable future of the State.
Meanwhile, Governor Peter Obi has called for strict control and regulation of use of fire arms. Governor Obi was speaking at Ukpo, Dunukofia Local Government Area, during the funeral ceremony of Late Miss Chiamaka Mezue, the daughter of the Special Assistant to the Wife of the Governor, Mrs Ndidi Mezue who was shot by a private security guard.
Governor Obi enjoined security agencies to ensure that only responsible and competent operatives are allowed to carry arms. He said that it was sad and lamentable that at this present age and time, such a young girl should lose her life because of an irresponsible act of someone expected to protect the society.