NIG Senators Give Executive Council 2 Days On Yar'Adua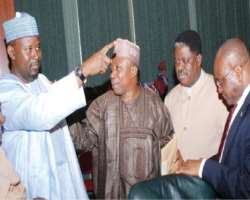 PHOTO: L-R: COUNCIL MEMBERS, ABBA RUMA (AGRIC. MINISTER), ADAMU ALIERO (FCT MINISTER), AND SAM EGWU (EDUCATION MINISTER).
San Francisco Feb 15, (THEWILL) – Senators who are members of the pro-constitution group called the National Interest Group (NIG) have given the executive council of the federation a two-day ultimatum to declare Nigerian ailing president, Umaru Yar'Adua incapacitated or it would be forced to impeach him from office.
Seventy members of the group rose from a meeting in Abuja on Monday where they decried the plans of some anti-constitution forces to use the courts to frustrate the current political solution, which was used to install Goodluck Jonathan as acting president.
The Chairman of the group, Senator Bala Mohammed confirmed the group's decision to the media.
The senators said they were convinced that Umaru Yar'Adua was fully incapacitated because the House of Representatives delegation to Saudi Arabia were not granted access to the leader who has been ill since November 23, 2009. The House delegation is expected to tender its report to the lower house on Tuesday (Tomorrow) but there are unconfirmed reports that the leadership of the House might stall its presentation.
The NIG is made up of eighty senators. There are 109 senators in the Nigerian Senate.
The executive council of the federation usually meets on Wednesdays and may be pressured to deliberate on the president's health one more time.
|
Article source