Ashafa unveils Constituency Projects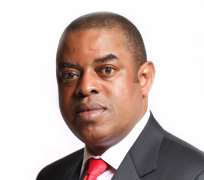 Midway in to the current four years (2011-2015) tenure, Senator Gbenga Ashafa, representing Lagos East Senatorial District has unveiled a number of development projects executed under his Constituency Project Programme spanning through the 5 LGs and 11LCDAs of the senatorial zone.
While addressing the press recently, Ashafa explained that the projects were among the landmarks that would serve as reference point for his period of representation even after he leaves office. He also noted that, as representative of the people, he considered it pertinent to intimate his constituents about the projects in his constituency, noting that the essence and usefulness cannot be overemphasized.
"As your representative in the senate, it is important to intimate you about constituency projects in our constituency. These projects are the only visible objects that will preserve our name after the expiration of our tenure, therefore all hands must be on deck to make sure that it is executed perfectly well for the betterment and usefulness of those that gave us their votes" the senator stated.
He also emphasized on the importance of developing appropriate maintenance culture by the people who are the direct beneficiaries of the projects and advised them to use the projects as theirs. "We should also note that despite the importance of these projects to our community, it will be a total failure at the end of the day if they are not properly maintained, the bulk of which lies on the users and government at large"
He added, " I am therefore appealing to my constituents to use all the constituency projects as their personal properties.
Some of the projects that are already completed include: motorized borehole at Akilo Street Bariga LCDA, 500KVA transformer at lagaza town, IBEJU- LEKKI , 300KVA at Ita Opo junction, Epe, ambulance bay in front of PZ in IKORODU,Skill acquisition center at IKOSI Ejinrin LCDA and the dredging of Oke Eriya Canal etc
Others still under construction include laboratory block with full equipment at Isheri Grammar School under IKOSI Isheri LCDA, Ambulance Points under construction at Epe and Ibeju- Lekki, drainage construction of Elemoro Palace, Ibeju-Lekki and a unit class room blocks at IBEJU- LEKKI LGA. Etc.
From Babatunde Adegunju
Media aide to Senator Gbenga Ashafa