Ogbulafor, NWC Denied Access to Yar'Adua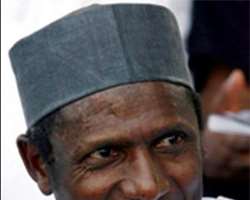 PHOTO: NIGERIAN PRESIDENT UMARU YAR'ADUA.
San Francisco Feb 15, (THEWILL) – THEWILL has learnt that the PDP delegation to Saudi Arabia was unable to see president Umaru Yar'Adua after spending three nights in Jeddah.
The delegation had PDP National Chairman, Prince Vincent Ogbulafor; Deputy National Chairman, Dr. Haliru Bello Mohammed; National Secretary, Alhaji Kawu Baraje; and Deputy National Secretary, Dr. Musa Babayo. The party leaders left Nigeria on Thursdays with an assurance that they would be granted access to Yar'Adua to enable them assess the state of health of the president who is also the leader of the political party.
A source familiar with their trip told THEWILL that the team had expected to see Yar'Adua on their mission. Ogbulafor and co were accommodated at the Mecure Grand Hotel located in the same Makkah area of town, which is supposedly where the president is being hospitalized.
Despite the assurances from the first lady that they would be granted access considering their status in the party, at a meeting with Turai, they were informed that Yar'Adua was recuperating at the King Faisal hospital and that they would not be granted access to him because she couldn't get the Kingdom to approve their request for access to him. Despite the delegations insistence on seeing the ailing leader face to face, their requests were not honoured.
An obviously disappointed Ogbulafor left Saudi Arabia on Sunday and is currently in the United States for medicals while the other members of the delegation may have returned to Nigeria.
The House of Representatives delegation was also prevented from seeing Yar'Adua face to face, the representatives have since returned to Nigeria.
|
Article source