US Police Kick Nigerian Embassy Officials Out Of California Hotels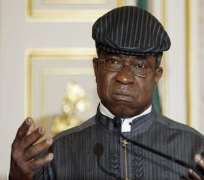 San Francisco Feb 14, (THEWILL) – Nigeria's image abroad was tarnished again this weekend as Baldwin Park Police Department and their LAPD counterpart threw about ten Nigerian Embassy officials out of three hotels within two days (two in Baldwin Park and one in Los Angeles), because of the poor manner it has conducted its ongoing passport renewal and consular service exercise in the west coast state of California.
The embassy had advertised that it would offer full consular services to Nigerians living in southern California from February 12th - 15th at the Courtyard By Marriot Hotel in Baldwin Park, California. Nigerians who wanted to benefit from this service would have to pay a $50-dollar "service fee" in addition to the cost of the service(s) requested.
As expected, Nigerians in their thousands living in California and neighbouring states turned up for the event on Saturday hoping to take advantage of the convenient consular service knowing that Nigeria does not have an embassy or high commission on the west coast. Unfortunately, the organizers of the event did not make the necessary arrangements to accommodate and manage the crowd. The process was very disorganized leaving Nigerians loitering and obstructing regular hotel traffic. Sources at the exercise told THEWILL that the hotel management invited the police who arrived minutes later and threw the embassy officials out of the hotel.
Not deterred by their eviction, the officials moved to another hotel in the area to continue the consular exercise and had to deal with a similar crowd. The police were once again invited to remove the crew from the hotel and that was the end of the exercise for Saturday.
Having still not learnt any lessons, on Valentines Day, the team regrouped at the Crown Plaza Hotel near the LAX and Nigerians in their hundreds again besieged the venue hoping to get consular service. A Nigerian who opted not to have his name in prints called THEWILL to make a formal complain. The lawyer with a practice in the Los Angeles area said he got to the venue early and registered his name and four others in his family for finger print scan after making the required payments earlier online to the embassy for the new e-passport and was number 805 on the queue. Explaining further, he said because of the shabby manner the event was handled, the Los Angeles Police Department (LAPD) moved in to evict the team from the hotel before they got a chance to participate.
Another Nigerian who called THEWILL from the same venue said the embassy officials have promised to resume the exercise tomorrow (Monday) at the Sheraton Hotel also near the LAX. The caller said he was angry because people who were not initially registered received service because they paid bribes through some Nigerians who were acting as touts outside the venue.
Calls to the Nigerian Embassy in Washington DC were not acknowledged.
|
Article source