Militants Await Jonathan's Invitation As Shell Refutes Reported Attack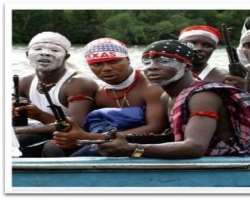 PHOTO: SOME NIGER DELTA FIGHTERS. Image: NAN.
Lagos Feb 12, (THEWILL) – The Movement for the Emancipation of the Niger Delta, MEND on Friday said it was waiting for an invitation from Nigerian acting president, Dr. Goodluck Jonathan to resume amnesty talks but maintained its cease-fire call off was still in effect.
The group last month called off a three-month old cease-fire deal it signed with the government and threatened more attacks after it claimed that the central government was not fulfilling its side of the deal.
MEND in a statement signed by its spokesman Gbomo Jomo also dismissed claims by another militant group, The Joint Revolutionary Council (JRC), which said it had blown up Shell's Tura manifolds linked to the Bonny export terminal on Wednesday.
The group however acknowledged small attacks on oil installations by aggrieved communities, oil bunkerers and thieves.
"There are attacks in small proportions that are ongoing by small groups and disgruntled communities as well as oil thieves. It is possible that the JRC is trying to take credit for such," MEND claimed.
Royal Dutch Shell also said on Friday it had no report of an attack on its operations in the Niger Delta despite the JRC claim.
"We have no reports of any such incidents in our operations," Shell spokesman Tony Okonedo said.
MEND said it had been "watching developments" since Vice President Jonathan formally assumed full presidential powers on Tuesday after a political solution was worked out due to Yar'Adua's illness and refusal to transmit a letter that would have allowed Goodluck become acting president.
"It is still too early to form an impression of the man with his new office, but if we have to judge him from his past antecedents, then there is little to cheer about."
"The ceasefire is still off and we are yet to be invited to resume talks which will be the basis to weigh the intentions of this government," Jomo's email said.
The group said it has no ties with the JRC, which it claimed, only existed on the internet.
"MEND has no affiliation with the JRC who, as far as we are concerned, exist only in cyberspace."
Nigerian acting president is the first person from the restive Niger Delta region to occupy the office of the president of Nigeria.
|
Article source