Udo Udoma: Remi Babalola Replies Senate Committee's Enquiry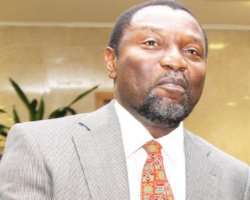 San Francisco (THEWILL) –As Senator Udo Udoma continues to cling on to the chairmanship of the Securities and Exchange Commission, SEC, the Minister of State for Finance, Mr. Remi Babalola on Sunday, responded to the enquiry from the Chairman of the Senate Committee on Capital Market, Senator Ganiyu Solomon, about the appropriateness of the board appointments of Chairman of the Securities and Exchange Commission, Senator Udo Udoma.
Senator Solomon had in a letter to the minister dated February 4, 2010 demanded an explanation over the perceived conflict of interest situation arising from the appointment of the SEC chairman by UAC of Nigeria and Linkage Assurance Plc as Chairman and Vice Chairman, respectively.
In his letter to the Senate Committee chairman dated February 9, 2010, Babalola promised to review the situation and revert promptly to the Committee.
"Undoubtedly, the issues are quite critical and call for quick action especially on the need to review the existing Investment and Securities Act (ISA) 2007 to safeguard the integrity of SEC as a regulatory institution. Be rest assured that the matter is being looked into and we will revert to you in due course."
The minister reaffirmed his commitment to higher regulatory and supervisory standards in all segments of the financial services industry.
"All the regulators of the financial market are collaborating with a common code of corporate governance most especially at this junction of the nation when we are inculcating attitudinal change and character re-orientation for a better Nigeria," Babalola said.
Solomon had also in his letter noted that the functions and powers of the Commission under Section 13 of the ISA indicated that the office of the director-general, chairman, the commissioners and staff of SEC ought to be free from any relationship that would tie them to any of the company that SEC regulates.
"There is therefore definitely and clearly a conflict of interest situation in senator Udo Udoma chairing the board of SEC and UACN and being on the board of public quoted companies.
"We are of the opinion that the elimination of room for unregulated relationships is critical to any perception of integrity or the ability of the regulator to take actions without fear or favour," the senator said in his letter.
Market analysts have queried Senator Udoma's appointment to chair the SEC because of his membership of boards of quoted companies in Nigeria. His appointment they say could bring about a conflict of interest.
|
Article source