SECRETARY-GENERAL APPALLED, SADDENED BY ATTACK ON PEACEKEEPERS IN EAST DARFUR, CALLS ON AUTHORITIES TO HOLD PERPETRATORS CRIMINALLY ACCOUNTABLE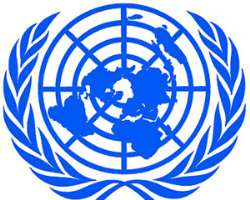 SECRETARY-GENERAL APPALLED, SADDENED BY ATTACK ON PEACEKEEPERS IN EAST DARFUR, CALLS ON AUTHORITIES TO HOLD PERPETRATORS CRIMINALLY ACCOUNTABLE
NEW YORK, April 22, 2013/African Press Organization (APO)/ -- The following statement was issued by the Spokesperson for UN Secretary-General Ban Ki-moon:
The Secretary-General is appalled and saddened by the fatal shooting of a Nigerian African Union-United Nations Hybrid Operation in Darfur (UNAMID) peacekeeper by unidentified armed assailants during an attack today on a UNAMID military position in Muhajeria, East Darfur. Two peacekeepers were also injured in the incident. He condemns in the strongest terms those responsible for the attack and calls on the authorities to immediately hold the perpetrators criminally accountable.
The Secretary-General expresses his deepest condolences to the Government of Nigeria and to the family and colleagues of the fallen peacekeeper.
The Secretary-General is deeply concerned about the restrictions imposed on UNAMID and humanitarian actors by the Sudanese authorities, which are preventing the delivery of aid to civilians affected by recent clashes between Government and Sudan Liberation Army-Minni Minawi forces in Muhajeria and Labado, East Darfur. He calls on the authorities to immediately allow UNAMID and humanitarian actors to have full and unhindered access to civilians in need of assistance.