South East Governors, Achebe's Family Chose May 23 For Writer's Burial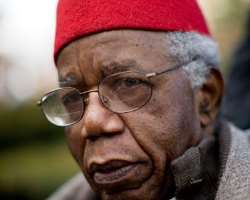 LATE PROFESSOR CHINUA ACHEBE
SAN FRANCISCO, April 21, (THEWILL) – The South East Governors and the family of late literary titan, Professor Chinua Achebe, have chosen to inter the remains of the novelist and critic on May 23.
The Chairman of the South-east Governors' Forum and Governor of Anambra State, Mr. Peter Obi, told reporters the decision after Sunday's meeting between the governors and the Achebe family in Enugu.
All the governors of the south eastern states attended the meeting except the Imo State Governor, Rochas Okorocha, who was represented by his deputy, Eze Madumere.
Okorocha is in London undergoing further treatment after sustaining minor head injuries in a car crash Friday.
Details of the burial were not disclosed to reporters.
Obi however said the governors also discussed security in the zone as well amongst other issues.
The Achebe family was led by Ikechukwu, the first son of the late world acclaimed author, who told reporters that his father loved Nigeria and wanted a corruption-nation with basic infrastructure for citizens.
Achebe died at 82, in Boston, Massachusetts hospital on March 22, 2013, after a brief illness.