Sack Of Ladoja's Appointees In Ajimobi's Govt. Long Overdue - Group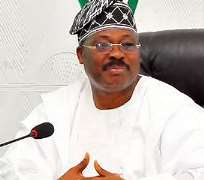 SAN FRANCISCO, April 21, (THEWILL) – A socio-cultural organization, Oyo Patriotic Front (OPF), has hailed Governor Abiola Ajimobi over the sack of all the appointees of former Governor Rashidi Ladoja and Accord Party in his government, describing it as long overdue.
The organization, in a statement issued in Ibadan on Sunday by its Chairman, Chief Jare Adepoju, said Ajimobi's action was a right step in the right direction.
OPF, while describing the governor as ``too large hearted'', said it was only a political neophyte that would allow members of an opposition party in his government, while all the party would be seeking was how to pull down the government.
``We recall vividly that the Action Congress of Nigeria (ACN) in Oyo State was vehemently opposed to the alliance between Governor Ajimobi's government and Senator Rashidi Ladoja when the idea was mooted in the first instance.
``Ordinarily, there would have been nothing wrong with such an alliance, given the circumstances surrounding it, but with Ladoja allowing his ambition to becloud his sense of reasoning, it was an alliance waiting to collapse. And this is exactly what has happened,'' the organization said.
OPF noted that in spite of the fact that Accord Party members were active participants in the Ajimobi government, Ladoja and his cohorts in the Accord Party had not for once stopped taking up arms against the government since its inception.
``Only a fool will allow the enemies within to pull down his government in the name of an alliance that was not worth its name.
``Ironically, even the opposition People's Democratic Party (PDP) has not stood up against the Ajimobi government the way Accord Party, a beneficiary of the alliance, has been attacking the government. This is condemnable in all its ramifications,'' the organization stated.
While wishing Ladoja and his Accord Party well in their pull-him-down approach to governance which had reigned supreme in the days of Ladoja and his erstwhile deputy, Otunba Adebayo Alao-akala, it urged Governor Ajimobi to forge ahead in his efforts at moving the state forward.
``Ladoja is not only a distraction, he is also a liability to Oyo State and an enemy to its progress and development,'' the organization contended.