TRIBUTE TO THE IRON LADY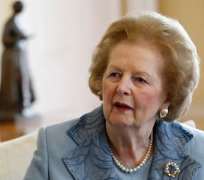 It was mixed reaction and remarks as the demise of British first female prime minister hit the air. To some, it was a passing on of self imposing leader surrounded by many controversies during her political sojourned, while some described her as a liberator, a giant that changed the course of political history, not only in Britain but the entire world.
Her obvious critics come from the South of Africa and America for the role she played during the Argentina and Falkland War, and Apartheid in South Africa. Argentina would never forget the ruthless mission of British army in 1982 and the disdain with Nelson Mandela, naming the Africa National Congress (ANC) a terrorist organization. Know for her stubbornness and aggressive style of leadership, no nonsense and strict to the core. Her wrought was felt during Northern Ireland hunger crisis when she employed hard line measure to suppress the rioters. She also used the same measure to suppress the Cole miner's protests, which almost truncate the social order in the United Kingdom.
Other than these, the Iron Lady, remained a great hero and liberator in Falkland Island to fight over Argentine dominance. Many political figures commended her for the role she played during the Cold War and hand of Friendship toward the Kremlin leader, Gorbachev. Whichever way we view it, nothing could be more important and in the political archive of this woman than being the first female in history to become a British prime minister. Thatcher, one of the important personalities of the 20th century, never bothered about the controversies trailing her but believed in her principle of self conviction.
A radical feminist, who defied all odds to change the course of history in one of the leading economies in the world, she rose to power at a time when many women were afraid to get dirty, a time when the West and East were arch enemies. A voice in British politics in the 80s, her political career shows that there is no limit to what a woman can reach in politics. She became the first prime minister to win three terms consecutively, before she was forced out of office.
She was not just a female leader, but a leader of substance that remained resolute in her decisions and actions, more reason she was described as the Iron Lady by Russian journalist, a name that became her appellation till her death. She may be self imposing but a lot can be learnt from her life.
Adieu the Baroness Thatcher!
Written By Toye Afolabi Olaleye (International Black Sea University, Georgia.)
Disclaimer:

"The views/contents expressed in this article are the sole responsibility of

thewillnigeria.com

and do not necessarily reflect those of The Nigerian Voice. The Nigerian Voice will not be responsible or liable for any inaccurate or incorrect statements contained in this article."
Articles by thewillnigeria.com