KAYODE WILL RUN OUT OF LAGOS IF I TAKE HIM UP! – FIRST WIFE, OLUBUKOLA SALAKO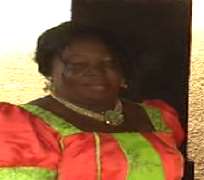 It seems the raging controversy trailing the recent revelation on FolukeDaramola's wedding by female journalist, BukolaFasuyi, would not abate anytime soon. It is getting messier.

More than a week after we broke the story, different angles are playing out and the latest is that members of the family of KayodeSalako have come out to re-iterate their supports for their acclaimed breadwinner's wedding to the movie star, Foluke who is currently on vacation in Atlanta, Georgia, USA.

The family in a statement going viral online and signed by one Olusegun Michael Salako, claimed that their brother had just found peace in Foluke's arms when it comes to marriage. According to them, their brother was not fulfilled when he was married to his former wife, Olubukola who they described as "lifeless and a sadist."

Members of the family refuted claims that Kayode was charmed, insisting that even if he and his family members were 'jazzed,' were the ministers of God who attended the wedding ceremony also under a spell?

They described all the tales coming from BukolaFasuyi, the lady who introduced Foluke to Kayode, as nothing more than fabricated stories meant to tarnish his image.
However, Kayode's former wife, Bukola, brought it to the notice of E24-7 MAGAZINE that some members of Kayode's family were condemning her. In tacit response, she said: "Anyone you know around Kayode, please interview them as regards, because if I say anything it will amount to defending myself. I'm not ready to defend myself in any way, God will fight and very soon time will tell.

When made to understand that her silence may mean consent, she said: "I don't mind but he who laughs last, laughs best. I'm sure that the works of my hands are clean and I know I serve a living God. When I'm okay before my creator, I do not need any man to give me ovation, the only ovation I need is from my heavenly father, which I know is closer to me than ever before. When the truth comes out at the end, whosoever that has taken sides wrongly will ask for forgiveness."

On Kayode's claim that God deliberately broke their marriage, and the family statement that she was not good enough, she said: "Anything can happen to any man who is not in line with God especially with what Lady (Bukola) Fasuyi is saying now, so all those that knows him have a duty to pray for him. I laugh my brother, if I'm to follow him up, Kay will run away from Lagos.

She concluded by saying a Yoruba proverb. "… but do you know that peomo to nyagbelowo won ki nu idi fun, eni to ba nu idi fun o kannfiasikosofoni. 'You do not clean up for a child who is still defecating or you'd be wasting your time.' This literarily translates to mean that more issues will still unfold.

In a fresh twist, a reader who pleaded anonymity visited E24-7 MAGAZINE's office and dropped a DVD showing a video recording of the 40th birthday party Kayode organized for his wife, Bukola, in their former Omole, Ikeja, Lagos home June 11, 2011. In the video, Kayode was full of praises for his wife, as a woman of virtue and substance. He also acknowledged her spiritual prowess.

"Spiritually, I know who my wife is, physically, I know who she is. Spiritually, when Olubukola tells me to go, I go, and when she tells me not to go and I go, I will cry back. She's not just a wife but a mother. I'm the first man she has known, I met her a virgin. You will see Bukola only in the church, at home and in the market."
>

© 2013 Nollywoodgists.com
Click the link below to go to...
Nollywood actor Solomon Akiyesi wants everyone to leave him alone after being disgraced by his wife.
Pastor Adeboye Of Redeemed Church Justifies Purchase Of Private Jet [VIDEO]
Kenny Ogungbe Infuriates Over 2Face's Wedding Invitation Denial
Jim Iyke Copies Omotola… Shots For His Reality TV Show [PICTURES]
2shotz Finally Says I Do In A Low Key! [Pictures]
Video: Denrele talks about late singer Goldie, her marriage and final hours
Nollywood Actress, Cynthia Agholor Romances UK Based Big Boy, UGOO UDOFIA * Dumps Ghanaian Producer, Elvis Lamptey