Boko Haram: Jonathan Meets Service Chiefs Over Proposed Amnesty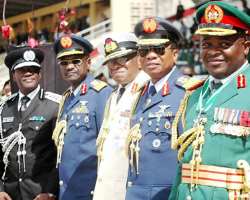 SAN FRANCISCO, April 16, (THEWILL) – President Goodluck Jonathan, Tuesday, met with the Service Chiefs to consider the report of the Amnesty Security Committee set up two weeks ago to consider the proposed amnesty for Boko Haram members.

The committee, which had two weeks to submit its report, was mandated to, among other things, consider the feasibility or otherwise of granting pardon to the Boko Haram adherents; collate clamours arising from different interest groups who want the apex government to administer clemency on members of the religious sect; and to recommend modalities for the granting of the pardon, should such step become the logical one to take under the prevailing circumstances.
Present at the meeting which held behind closed doors were the Chief of Defence Staff, Vice Admiral Ola Ibrahim; Chief of Naval Staff, Rear Admiral Dele Ezeoba; Chief of Air Staff, Air Vice Marshall Alex Badeh; Chief of Army Staff, Lt.-Gen. Azubuike Ihejirika; Inspector General of Police, Mohammed Abubakar, among others.
The President had set up the Amnesty Security Committee to consider the modalities and feasibility of granting amnesty to Boko Haram.
Tuesday's meeting, it was gathered, was also meant to look at the position paper presented on Monday night to President Jonathan by the Northern Traditional Rulers Council.
On Monday night, the Northern Traditional Rulers Council had presented a position paper to President Jonathan on how to resolve the current spate of violence by members of Boko Haram.
They were led by the Sultan of Sokoto, Alhaji Sa'ad Abubakar III, to present the report at a meeting held at the Presidential Villa, Abuja.
The secretary of the traditional rulers council and the Emir of Kazaure, Alhaji Najeem Adamu, in a chat with journalists after Monday's meeting , disclosed that part of their suggestions include dialogue and amnesty.
"The meeting was about the state of the nation and the security challenges we are facing. We recommended the use of dialogue as one of the strategies to resolve the security challenge and at the same time to devise strategies that will encourage or lay the foundation for sustainable peace in this country.
"Our presentation was preceded by long time discussion and deliberation. In a nutshell, what we sought to do is to give our views having regards to our background, our knowledge of various societies, various communities; what we think should be done to resolve the crisis and ensure sustainable peace in the country.
"The issue of amnesty came up. It formed part of the strategies we are recommending but, of course, it has to be done properly with better appreciation of the situation rather than haphazardly which people think should be the case.
"We believe that we have to give very serious consideration and make sure that whatever we do is sustainable," he said.