House Reconvenes Tuesday As Budget, Constitution Review, PIB Top Agenda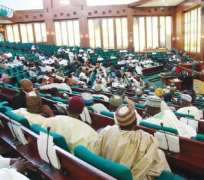 ABUJA, April 16, (THEWILL) – The House of Representatives will resume plenary on Tuesday, April 16, from the Easter break and may straight away start consideration of the supplementary budget presented to them by President Goodluck Jonathan in March.
There are however indications that the presidency and members of the House of Representatives may be heading for another show down over the supplementary budget.
President Jonathan had proposed a N2.4 trillion as recurrent expenditure as against the N2.3 trillion passed by National Assembly. He is also seeking the approval of N1.588 trillion as capital expenditure as against the N1.6 trillion approved by the parliament last year.
Of the total N4.987 trillion budget, a new proposal of N388 billion is being earmarked for statutory transfers while N591.7 billion is for debt service.
But the House would likely clash with the Presidency because of certain clauses inserted into the new bill.
It will be recalled that President Jonathan had, in the covering letter to the supplementary budget, accused the National Assembly of usurping the powers of the executive by inserting some clauses that were not in the interest of the nation into the budget and therefore implored the lawmakers to alter the contentious clauses.
He had said, "The 2013 Appropriation Act includes clauses which may be injurious to the spirit of separation of powers and which could hamper the work of the executive arm of government. I therefore request that these should be reviewed."
Jonathan had also rejected the provision in the budget, which placed a caveat on the Securities and Exchange Commission (SEC) from spending any money without the approval of the National Assembly and went ahead to accuse the National Assembly of attempting to cripple the operations of SEC.
But the House had insisted that its decision on the removal of the SEC Director General, Ms. Arunma Oteh, is irrevocable. According to the chairman, House Committee on Media and Public Affairs, Hon. Zakari Mohammed, "Our position on the Director General of SEC remains unchanged. We have not shifted grounds."
Mohammed confirmed that the House would not have anything to do with SEC until the president did what is required of him.
Before proceeding on the Easter break, the House had passed a motion in which it gave Jonathan an option to choose between them and Oteh. Accordingly, the House gave its Committee on Legislative Compliance to ensure that the president complied with the directive within 21 days.
Apart from this, the House ad hoc committee on the review of the 1999 Constitution will resume full activities with the presentation of the people's public sessions report scheduled for Thursday, April 18 while the ad hoc committee on the contentious Petroleum Industry Bill (PIB) would commence zonal public hearings on Monday, April, 22.