How We Kidnapped Okonjo-Iweala's Mum, By Suspects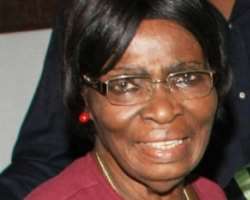 QUEEN KAMENE OKONJO, MOTHER OF MINISTER OF FINANCE DR NGOZI OKONJO-IWEALA
How was Queen Kamene Okonjo, mother of Minister of Finance Dr Ngozi Okonjo-Iweala, kidnapped from her palace on December 9, last year?
Startling details of her kidnap were given yesterday in Lagos by her abductors, who were arrested by operatives of the Special Anti-Robbery Squad (SARS). The suspects were paraded at the Command Headquarters in Ikeja, the Lagos State capital, by Police Commissioner Umar Manko.
They said they lied to the queen that President Goodluck Jonathan sent them to arrest her and bring her to Abuja because her daughter embezzled billions of naira which she must pay for.
They are Chiejina Victor Onochie, 32, from Ogbeofuu Village in Ogwashi-Uku, Delta State; Oko Chukwuma aka Chuks, 32, from Isele Mkpitima in Aniocha North Local Government Area of Delta State; the gang leader, Ogbuem Jideofor aka Marvelous, 22, from Ezi in Aniocha Local Government Area of Delta State; Michael Ojeabulu, 23, from Esan, Edo State; Buhari Amajoda, 27, Hassan Oseni, 29, and Ibrahim Abubakar, 28, all from Adamawa State and Endurance Oke, 22, from Edhere Aviraha Village in Delta State.
They said they were 13 that carried out the operation. One is dead, The Nation learnt; four are at large. They include one popularly known as Buba.
The queen, according to Jideofor, asked them what offence her daughter committed because it was the same president that invited her the minister from London to help manage the country's economy.
Despite her enquiry, he said, they bundled her into their vehicle and zoomed off.
Jideofor said they fed her with fried rice, bread, gala, 5-Alive juice drink, adding that they initially demanded a N200 million, ransom, but her son, Onyema, later dropped N13 million along a bypass.
He said two persons came in a vehicle to drop the money and left before they went there to pick it.
Jideofor said: "When we went to kidnap Okonjo-Iweala's mother in the palace, we were eight – Peter, Buba, Mohammed, Olopa, Idowu, Idowu's driver and Ifeanyi and I. Four of us carried guns; I carried AK47 rifle. It was a smooth job."
On how they shared the ransom, he said: "Victor got N700,000 as an insider who brought the job; Chuks, N500,000; Ifeanyi, N1 million; Mike, N400,000; Peter, N2 million; the late Idowu who was shot dead by the police in Benin, N2 million; Mohammed, N2 million; I got N2 million, Olopa, N1 million; another Buba, N300,000; Chiboy, N250,000; our armourer, Ibrahim, N50,000, and Endurance, N250,000.
Onochie, who said he was a security guard at the Delta State Polytechnic, and a relation of Mrs Okonjo-Iweala, added: "Chuks lured me into kidnapping through my girl friend, Joy, who was doing her Industrial Attachment (IT) at Adanson Hotel, Ogwashi-Uku. He told me that one job brought him to Ogwashi-Uku and I asked him for the type of job. He said he wanted to carry somebody and he asked about my auntie, the Rector of the Polytechnic, Mrs Edna Mojekwu. I replied him that I had spent five years as security man in the institution and that the woman was merely managing herself. I said it would be better for us to look for another victim. I then suggested the mother of Ngozi Okonjo-Iweala. We then started thinking on how to carry the woman."
Chuks, he said, then asked him how they would accomplish the ploy and he suggested that they presented their NYSC certificates to Mama Okonjo-Iweala, giving the impression that they wanted the ex-minister to get them jobs.
He said an argument ensued when they initially planned to go to the palace, leading to the postponement of the operation. Two weeks later, on Sunday morning, they stormed the palace in two cars.
"I carried Chuks on motorcycle to Azagba-Ogwashi-Uku Road and Chuks came down close to African House. After discussing with them, Chuks entered my motorcycle and we went back through School Road to Azagba. Jideofor and his men then went for the job at Obi's palace while I went back to my house. I and Chuks later went back to Ogbeofuu, but before reaching there they had carried the woman," said Onochie.
"That day," he added: "Mama came down to give drinks to workers renovating the palace. When they entered and climbed up, they did not see her, but were told that she was downstairs, unknown to the workers that they were kidnappers. They told the woman that they belonged to the Special Force from the Presidency; that they were there to arrest her because of the money her daughter, Ngozi embezzled. They did not give me a dime after the operation."
Ojeabulu, a Higher National Diploma (HND) student of Agriculture, said: "My role was to take care of victim in the bush. Jideofor would bring food every day. Mama Okonjo-Iweala was kept in a bush in Kwale, just 30-minute drive from the palace and Delta police did not know."
Endurance, who said he was the gang's driver carrying victims in their operational car, added: "I studied accountancy in Delta State University. My first work was to carry a woman to Nkuzu Village in Iseluku area of Delta State. My second job was Okonjo-Iweala's mother. They gave me N250,000."
On how they got rifles for their operations, Jideofor said, it was Buba who bought them from the Onitsha main market at N400,000 each. The seller, he said, sold cotton as a cover-up and would not sell weapons to unknown customers.
Those still at large, Buba said, included Peter, who allegedly killed their last victim, simply identified as Mrs Regina Obi-Dainty, before they were arrested by the SARS operatives alongside Olopa, now in prison custody. Buba's driver, and Idowu, who they said, was killed by policemen during a cross-fire in their den in Benin, Edo State.
Narrating how they carried out the two operations tagged, "National Assignment," in which they killed Mrs Regina Obi-Dainty, the mother of Dankwa, a popular businessman, Jideofor said: "I am a businessman based in Port Harcourt; I used to buy goods from Mandilas, Lagos. I have led kidnap operations five times."
"The first victim, a woman at Asaba, was brought by one boy and we got N7 million. The second, a man, was brought by Buhari in the same Asaba and we got N6.4 million. The third was brought by Chuks, also in Asaba. The victim was Chuks' uncle and we got N3.2 million. The fourth was Okonjo-Iweala's mother and we got N13 million. The deal was brought by Chuks, Ifeanyi and Victor. The fifth one is the one Peter killed – Mrs Regina Obi-Dainty – claiming that he did it to revenge his brother's killing by the police."
Jideofor told The Nation that he was introduced into kidnapping by a friend called Kalous in Asaba, adding that Kalous was spending money like a cocaine baron before he revealed the source of his wealth to him. He said he had only one car, adding that he invested all his money in boutique business.
He said: "On the other operation in which Mrs Regina Obi-Dainty was killed, I brought the job because her son, Mr. Dankwa is my brother, but he was very stingy with money."
Chukwuma, said: "I graduated from Ambrose Ali University in 2007. I studied Accountancy and I did my Youth Service at Idah, Kogi State in 2008/2009. I later went back to my village to search for job. When I could not secure job, I went to Lagos to meet my sister, Mrs Ijeoma Iwegbu. One day, I went home – Ogwashi-Uku – to see my girl-friend, Uju. There I met Victor Chiejina.
"As we were chatting and drinking, Victor said he had one kidnap job but did not want to involve local people from the village. I then told him that I knew one Ifeanyi (now in prison for being in possession of Indian hemp). Ifeanyi said he would contact Jideofor. They did not want me to participate. They only told me that they had carried the Mama Ngozi Okonjo-Iweala. I was not given a kobo after the job.
"They collected N2 million from the late Mrs. Regina Obi-Dainty's son and did not give me a kobo. I did not know that they shot the woman dead. I told them to pay into my sister's bank account. When she went to withdraw the N300,000, she was arrested and they used her to track me down. They arrested me when I went to collect the money my sister withdrew from bank, not knowing that she was with SARS men."
Buhari, who claimed to be a security man in Asaba, said he got N250,000, while Hassan said he only got N30,000.
Manko said yesterday: "Sequel to the arrest of one Chiejina Onochie and Chukwuma Okoh on March 27, at about 100hours by men of the Special Investigations Bureau (SIB), Lagos State Police Command, and their subsequent confessions that they gave the information that led to the kidnap of the mother of the present Minister of Finance, Dr. Mrs. Ngozi Okonjo-Iweala in Delta State among many other kidnappings, the Commissioner of Police, Lagos State Police Command, CP Umar Abubakar Manko, directed O/C SARS Ikeja, SP Abba Kyari to go after the kidnappers, especially Jideofor, the gang leader.
"On the strength of this, O/C SARS expanded his tracking network and deployed three SARS Decoy Teams to Delta, Edo and Rivers states which eventually led to the arrest of one Jideofor Ogbue aka Marvelous, the gang leader of the deadly kidnappers, at his hideout in Port Harcourt, Rivers State on April 2. Also five more members of his gang were arrested viz: Michael Ojeabulu, Endurance Oke, Ibrahim Abubakar, Buhari Hamadora and Hassan Oseni at different locations in Edo, Enugu, Delta and Anambra states.
"They confessed to the kidnapping of the mother of Nigerian Finance Minister and collected N13 million ransom and many other kidnappings, including the most recent, where the victim, an elderly woman, Mrs. Regina Obi-Dainty, was killed by the kidnappers after collecting N2 million ransom. Jideofor was arrested in Port Harcourt after he had perfected plans to proceed to Awka, Anambra State."
Manko added: "There is no hiding place for any criminal in Lagos no matter where he runs to."
THE NATION