Jonathan Moves Against Amaechi As Court Sacks Rivers PDP Executive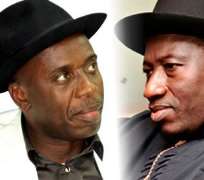 SAN FRANCISCO, April 15, (THEWILL) – A Federal High Court in Abuja has sacked members of the executive of the ruling PDP in Rivers State leaving the embattled Governor of the State and Chairman of the Nigerian Governors' Forum without a structure.
Justice Mohammed Talba, Monday, gave the order that removed all members of the Chief Godspower Umejuru Ake led state executive who are staunch loyalists of Amaechi.
Amaechi and President Goodluck Jonathan have been at loggerheads folowing Jonathan's preceived reelection push in 2015.
A Minister of state of Education and a former ally of Amaechi, Mr. Nyesom Wike is believed to have spearheaded this move at the court, THEWILL can report.
Wike is plotting to succeed Amaechi in 2015 when his tenure as Governor expires and he fears Amechi's grip on the PDP structure in the state would frustrate his ambition.
The ruling was courtesy of a suit instituted by Mr. Felix Amechi Obua and Mr. Walter Ibibia Opuene who claimed that they were both duly elected as Chairman and Secretary respectively at the state congress held on 17th March, 2012, by a committee set up by the national headquarters of the party.
Part of the reliefs claimed by the duo, all of which the court granted, include an order directing the party headquarters to swear them in as chairman and secretary respectively and all others duly elected into the state committee at the authentic state congress held on the 17th of March, 2012.
The court also granted an order of perpetual injunction restraining the party from appointing Chief Godspower Umejuru Ake, or any other person(s) in the stead of Obuah Felix and Walter Opuene as chairman and secretary of the Rivers state.
It also made an order declaring null and void all acts purported to have been carried out by persons or group of persons, including Chief Ake, or others who were not legitimately elected at the state congress.