PDP Refutes Report On Purported Problems With INEC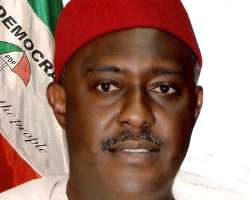 PDP's NATIONAL PUBLICITY SECRETARY, CHIEF OLISA METUH
SAN FRANCISCO, April 15, (THEWILL) – The ruling Peoples Democratic Party (PDP) has refuted media reports suggesting that the Independent National Electoral Commission (INEC) had decided not to have any dealing with its National Working Committee (NWC) and had decided not to accept candidates from the party.
Describing the report as totally false, a statement issued, Monday, by the National Publicity Secretary of the party, Chief Olisa Metuh, said the report was clearly part of the orchestrated media attack on the party, aimed at causing confusion and undermining the psyche of its members.
"Our investigations revealed that the said report did not in any way emanate from the Independent National Electoral Commission (INEC) or any of its officials.
"INEC as a law abiding organisation could not have reached such a decision as purported. Also we are aware that no INEC official spoke to the media house as claimed in the report.
"Rather, the report was mischievously planted by unscrupulous elements in a desperate bid to undermine the overwhelming support our party enjoys among Nigerians.
"We wish to reiterate that there is no anomaly in the election of the members of the NWC and that INEC had at no time reached a decision not to accept candidates from our party.
"For the avoidance of doubt, INEC records show that the present NWC is the valid leadership of the party. Against this backdrop, the commission has been having dealings and a general excellent working relationship with the PDP NWC as constituted.
"Since the inception of the current NWC on the 24th of March 2012, formal communications have been taking place between it and INEC.
"Available records show that the commission has been inviting officials in the present NWC including the National Chairman, Deputy National Chairman, National Secretary and National Organizing Secretary among others for several meetings on various matters.
"Also in all the elections that have taken place over this period, INEC has wholeheartedly fielded ALL candidates presented by the leadership of the PDP led by Alhaji Dr. Bamanga Tukur.
"It is on record that INEC fielded PDP candidates presented by the present NWC for gubernatorial elections in Edo and Ondo States respectively.
"INEC also fielded PDP candidates submitted by the NWC for National and State Assembly polls as well as other elections within this period, the most recent being the candidates for Area Councils polls in the Federal Capital Territory," the statement said.
According to the party, "Nigerians will recall that we had earlier informed them about a well-orchestrated scheme to undermine the leadership of the party and cause confusion in the polity. We therefore urge media houses to always cross-check their facts before going to press.
"We wish to assure all our members and Nigerians in general that we shall remain undaunted in our commitment to the welfare of all our citizens in line with the manifesto of our party and the Transformation Agenda of the President Goodluck Jonathan-led PDP administration."