S'West PDP Peace Meeting Fails As Obasanjo Turns Down Overture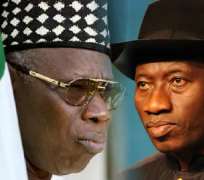 SAN FRANCISCO, April 15, (THEWILL) – The strained relations between President Goodluck Jonathan and former President Olusegun Obasanjo got further sour, Monday, as the reconciliation parley in the South West zone of the party, led by the Chairman of the Board of Trustees of the Peoples Democratic Party (PDP), Chief Tony Anenih, failed to woo the former President to support the Bamanga Tukur-led national executive committee of the party and the re-election bid of President Jonathan.
A source at the meeting told THEWILL that Obasanjo insisted he would not meet with a large delegation from the PDP Board of Trustees, which prompted Chief Anenih to meet with him along with the Board's Secretary, Senator Walid Jubrin.
The meeting which held at the Abeokuta residence of the former President started with Senator Walid explaining the reason for their visit and the resolve of the party's leadership and President Jonathan to resolve the problems in the South-west zone of the party. However before Walid finished his address, an infuriated Obasanjo cut in and asked him to "shut up and sit down".
The source at the meeting quoted an angry Obasanjo as saying in the presence of his key supporters in the region, including Dr. Segun Oni, who was removed as leader of the party in the South West by the Bamanga Tukur-led national executive : "Will you shut up my friend!!! You are a small boy. Do you know when I started politics? I have made three Presidents in this country…"
Obasanjo, who maintains a no-love-lost relationship with Anenih thereafter ushered the BoT Chairman into an inner room where both of them discussed behind closed doors.
THEWILL's source said Obasanjo pointedly told Anenih that he would not support the current leadership of the PDP as long as the status quo remains . He also insisted that President Jonathan must honour a deal he reached with the north by not seeking re-election in 2015.
Ahead of today's peace meeting, the Obasanjo group had insisted that reconciliation must begin with the PDP National Chairman's readiness to ensure fairness and justice in the party, reinstatement of sacked National Working Committee (NWC) members from the South-west and protection of the party's constitution.
Obasanjo had delayed his travel to later tonight in order to accommodate the visitors.
The sacked officers include the National Secretary, Prince Olagunsoye Oyinlola; National Vice-Chairman, South-west, Chief Segun Oni and former National Auditor Chief Bode Mustapha. They are all Obasanjo's men and passionate supporters of the former President.