Tight Win For Chavez's Heir Spells Uncertainty For Venezuela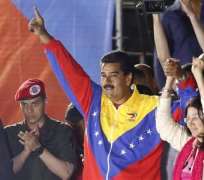 Late socialist leader Hugo Chavez's chosen successor Nicolas Maduro won Venezuela's presidential election by a whisker but now faces opposition protests plus a host of economic and political challenges in the OPEC nation.
The 50-year-old former bus driver, whom Chavez named as his preferred heir before dying from cancer, edged out opposition challenger Henrique Capriles with 50.7 percent of the votes in Sunday's election, according to election board returns.
Capriles took 49.1 percent, just 235,000 fewer ballots.
Capriles, whose strong showing beat most forecasts, refused to recognize the result and said his team had a list of more than 3,000 irregularities ranging from gunshots to the illegal reopening of polling centers.
"I didn't fight against a candidate today, but against the whole abuse of power," said Capriles, the 40-year-old governor of Miranda state, demanding a recount.
"Mr. Maduro, you were the loser ... This system is collapsing, it's like a castle of sand - touch it and it falls."
A protracted election dispute could cause instability in a deeply polarized nation with the world's largest oil reserves.
Though some opposition supporters chanted "fraud," banged pots and pans and burned tires in protest, Capriles did not call them onto the streets en masse.
Maduro said he would accept a full recount, even as he insisted his victory was clean and dedicated it to Chavez.
"We've had a fair, legal and constitutional triumph," Maduro told his victory rally.
"To those who didn't vote for us, I call for unity."
The election board said Maduro's win was "irreversible" and gave no indication of when it might carry out an audit. Critics say four of its five members are openly pro-government.
Maduro's slim victory provides an inauspicious start for the "Chavismo" movement's transition to a post-Chavez era, and raises the possibility that he could face challenges from rivals within the disparate leftist coalition.
CAPRILES' LATE SURGE
Chavez beat Capriles by 11 percentage points in October, showing how quickly the gap between the two sides has eroded without the larger-than-life presence of the former leader.
Opinion polls had all predicted a comfortable win for Maduro, due to emotion over Chavez's March 5 death and the popularity of his social welfare programs, but they had also shown the gap narrowing fast in the final days.
Even so, the result took most Venezuelans by surprise, and demonstrated that Capriles' message on the campaign trail, where he slammed his rival as an incompetent and poor imitation of Chavez unable to fix the nation's myriad problems, had hit home.
Maduro was unable to match his former boss's charisma and electrifying speeches, but nevertheless benefited from a well-oiled party machine and poor Venezuelans' fears that the opposition might abolish Chavez's slum development projects.
The close election outcome capped an extraordinary two years for Venezuelans since Chavez's cancer was diagnosed in mid-2011, plunging the nation into uncertainty.
"The unpredictable narrow margin of the election results has proven how volatile the political scenario is," said Venezuelan political analyst Diego Moya-Ocampos.
"The death of Chavez was a game changer that is leading to the gradual reorganization of political power in Venezuela, in which the armed forces will play a key role behind the scenes."
The election raises doubts about the long-term appeal and durability of the movement that Chavez built, led and held together throughout his 14 years in power.
Maduro's supporters set off fireworks overnight and some sang and danced in the streets, but celebrations were far more muted than after Chavez's re-election last year.
Some supporters seemed to pay little attention to Maduro's speech, and it was only when he played a recording of the late president singing the national anthem that they burst into life.
"On one hand, we're happy, but the result is not exactly what we had expected," said Gregory Belfort, 32, a computer technician looking slightly dazed with other government supporters in front of the presidential palace.
"It means there are a lot of people out there who support Chavez but didn't vote for Maduro, which is valid."
ALLIES CONGRATULATE MADURO
Allies including China, Russia, Argentina and Cuba all congratulated Maduro.
"This transcendental triumph demonstrates the strength of the ideas and work of Commander Hugo Chavez," said President Raul Castro of Cuba, which depends on more than 100,000 barrels per day of Venezuelan fuel in return for sending workers here.
Under Chavez, Venezuela was the United States' main irritant in the region, and Washington will be watching events closely while trying to avoid any impression of meddling.
Though Maduro has repeated his predecessor's strident "anti-imperialist" rhetoric in public, there are signs he may want to begin a rapprochement with the U.S. government.
The armed forces, who have played a major role in Venezuela's tumultuous recent history including three coup attempts from within the military in the last two decades, vowed to maintain order in the nation of 29 million people.
Maduro's narrow win came as a shock to many ardent Chavez loyalists, who had become accustomed to his double-digit election victories.
His campaign was built almost entirely on his close ties to the late leader and emotional anecdotes about Chavez's final days before he succumbed to cancer last month.
The small margin of victory gives Maduro less authority to lead the broad ruling alliance that includes military officers, oil executives and armed slum leaders. It had been held together mainly by Chavez's iron grip and mesmerizing personality.
"This is the most delicate moment in the history of 'Chavismo' since 2002," said Javier Corrales, a Venezuela expert at Amherst College in Massachusetts, referring to a putsch against Chavez 11 years ago.
"With these results, the opposition might not concede easily, and Maduro will have a hard time demonstrating to the top leadership of Chavismo that he is a formidable leader."
It will also add to the difficulty Maduro faces in moving from campaign mode to actually governing a nation with high inflation, a slowing economy, Byzantine currency controls and one of the world's worst violent crime rates.
In 2012, blow-out state spending before Chavez's re-election helped spur economic growth of 5.6 percent. This year, many private economists expect growth of 2 percent or less.
Wall Street analysts said the high uncertainty about the short-term political situation was likely to be received negatively by the market. There was no sign, however, that the situation could force Venezuela to default on its debt.
Venezuela's popular, high-yielding flagship dollar bonds fell sharply on Monday and debt insurance costs rose.
The evaporation of Maduro's big lead in the opinion polls from just last month prompted some high level soul-searching.
"These results require deep self-criticism," said Diosdado Cabello, the powerful head of the National Assembly whom many Venezuelans see as a potential rival to Maduro.
"It's contradictory that some among the poor vote for those who always exploit them," Cabello added on Twitter. "Let's turn over every stone to find our faults, but we cannot put the fatherland or the legacy of our commander (Chavez) in danger."
REUTERS