Dish Tries To Trump Softbank With $25.5 Billion Sprint Offer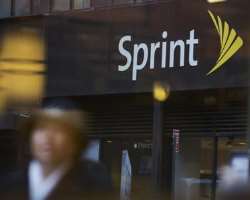 Dish Network Corp, the No. 2 U.S. satellite television provider, offered to buy Sprint Nextel Corp for $25.5 billion in cash and stock, a move that could thwart the proposed acquisition of Sprint by Japan's SoftBank Corp.
Dish's bid is the latest development in a shakeup of the U.S. wireless business, which is undergoing a wave of consolidation. Dish was already in the midst of an unsolicited offer for Clearwire Corp, the wireless company majority-owned by Sprint.
It was the boldest step yet by Dish Chairman Charlie Ergen, who has bought billions of dollars worth of wireless spectrum in the last few years and has been seeking some sort of deal to make use of the airwaves.
Dish said on Monday it would pay $4.76 per share in cash and about 0.05953 shares in Dish stock for each Sprint share. The offer, which works out to $7.00 per share, represents a premium of roughly 12 percent to Sprint's close on Friday.
Dish claimed its offer represented a premium of roughly 13 percent to SoftBank's existing bid. Sprint shareholders would own 32 percent of the combined company.
"The offer from Dish appears credible since it has the financing lined up and can justify a higher price than SoftBank's offer because of the synergies with its existing operations in the U.S.," said Nick Brown, a telecoms analyst with Espirito Santo investment bank.
Sprint, the No. 3 U.S. mobile services provider, agreed in October to sell 70 percent of its shares to SoftBank for $20 billion. No date has been set yet for a vote on that deal.
Sprint declined to comment on the Dish offer. SoftBank could not immediately be reached for comment on Dish's bid.
Sprint shares were up 14.5 percent at $7.12 before the bell, just above the offer price.
READY FINANCING
Barclays is serving as financial adviser to Dish. The satellite company said it intended to fund the bid with $8.2 billion in cash from its balance sheet as well as debt financing.
In its letter to Sprint's board, Dish said it had received a "highly confident letter" from Barclays with regard to its financing.
In the letter, Dish suggested its offer was more compelling than the SoftBank bid because of the synergies: $11 billion in cost savings and the creation of a national provider of video, broadband and voice services.
"Dish has significant experience structuring and consummating strategic transactions and only needs to complete confirmatory due diligence, which we believe can be done quickly with your cooperation," Dish Chairman Charlie Ergen wrote to Sprint Chairman James Hance.
REUTERS