RE: POVERTY, A GLOBAL PHENONMENON NOT KWARAS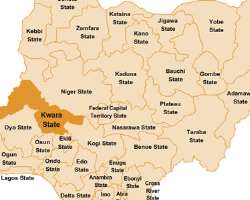 Sequel to last week's article on Kwara State & the self-plague of poverty, I got a rejoinder. Shall I really call it a rejoinder or a defence tactic gone wrong?
That's what it seemed like to me. When one Mr. Rotimi Ogungbola wrote on Ynaija last week claiming I was trying to manipulate the mind of Nigerians towards seeing Kwara State Government as a failure by narrowing poverty down to Kwara State alone. He claimed poverty is a global phenomenon which I quite agree with but shall we say that's a justification for the extra poor standard of living of Kwarans despite billions that go into the coffers of the state government every month?
Apart from his personal vendetta on my person & that of the entire EkekeeeDotCom crew, he went ahead to claim that Kwara State is at the top of palliative measures creation & that poverty alleviation is systematic & not an event. This is exactly what raised my brow. If the people of Sie Olorunsogo village could be in their present inhumane state of living in this 2013, what could have been their living condition 13 years ago since the inception into the democratic dispensation? 13 solid years & palliative measures are yet to reach Irepodun LGA which is just a 30 minute drive from the state's capital? He admitted that Sie-Olorunsogo indigenes are living below normal standard of living but asked why I should allow poverty be seen as synonymous to the whole of Kwara state? I personally challenge the Kwara State Government to step forward & show Nigerians how far they have gone in infrastructural/human rehabilitation & development in all the other 14 LGAs in the state apart from the main Ilorin & Offa LGAs.
Visiting a remote or rural area of a state & seeing the presence of government there is different from the scenes I saw in Sie-Olorunsogo. In that particular area of Irepodun, the only presence of government I witnessed there were nothing but old paper posters campaigning for the people's votes during the 2011 elections adorning their mud & thatched leaves houses. If not for those posters, one wouldn't have believed those people ever have visitors from the outside world.
The much acclaimed KWABES, UN MDGs, LEAH Foundation & Alaafia Kwara Foudation doesn't even have any skeletal presence in these remote villages. Villages that have only bush paths serving as roads to both pedestrians & the few motorists who dare ply their roads can't claim to have adequate aids to fight poverty. Nothing developmental was visible in that place. As a matter of fact, it was so glaring that the government might not even be aware such places do exist. Its not for me to do any further research. If what I saw in Sie-Olorunsogo can still be in existence in 2013 under a self-trumpet-blowing government like the Sarakis & Abdulfatah, then I see no reason why my article shouldn't be online.
Finally, Mr. Rotimi Ogungbola summoned me to join hands with government to fight poverty by proffering solutions. It bothers me when someone apparently in government occupies a comfortable office in a government parastatal, earn ungodly salaries/allowances & then have the guts to turn to ordinary citizens for solutions to problems they were paid to solve. This may sound unpatriotic but how fair will it be on me when I feed my own family, educate my kids, generate my own electricity, repair my own roads, build my own shelter, constitute my own security & then somebody who depends on public money to provide all he needs will go clueless & ask me for solutions? It speaks a lot about the 'jugheads' & sleazes we have occupying the seats of leadership.
Its only in Nigeria development is measured by how much we have in the treasury not how happy the people of the nation are. Without respect for economics & economists, I personally believe the development of a country determines on how much the government is willing to invest in infrastructural & human resources development. How much the government is willing to invest in the lives of its subject is what matters most. The standard of living of the citizens is what depicts if a government is truly working or not. And until the nooks & crannies of the entire citizenry is touched & developed, no government should raise their heads to celebrate mediocrity!
Back to you, Mr Rotimi Ogungbola. You claimed my previous article was filled with grammatical errors & weak sentences. I scoffed through out reading your mumbo-jumbo of words you called a rejoinder. I assume you're not only a pro-Saraki propagandist but also a paid employee of his government. Well, if that is what you call doing your job, then I guess you need a rethink because you did so poorly at defending your boss. I know you must have noticed how much I have desisted from mentioning the name of the present governor. That's because I know he's just another extension of the Sarakis who has got nothing to offer Kwarans than distribute free UME forms.
Despite all these, I quite agree with you that poverty is a global phenomenon but shall we use that as a benchmark for our own performance in government? We can stand out from the rest of the world because we have what it takes. I also look forward to the day when those in government will start seeing political critics as a mirror & not an enemy, lest you won't have to jump into defense mode whenever your bosses are challenged.
And please mind you, this is not a Rejoinder!
Written By Adeeko Ademola Abayomi

Disclaimer:

"The views/contents expressed in this article are the sole responsibility of the author(s) and do not necessarily reflect those of The Nigerian Voice. The Nigerian Voice will not be responsible or liable for any inaccurate or incorrect statements contained in this article."
Articles by thewillnigeria.com