Nigeria's MEND Rebels Issue Threat to Bomb Mosques, Kill Clerics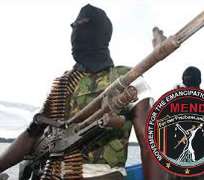 Nigeria's Movement for the Emancipation of the Niger Delta said it will start a bombing campaign against mosques and Islamic institutions, a week after the rebel group said it killed 15 security personnel in the southern oil-producing Bayelsa state.
"The bombings of mosques, haj camps, Islamic institutions, large congregations in Islamic events and assassinations of clerics that propagate doctrines of hate will form the core mission of this crusade," MEND spokesman Jomo Gbomo said in an e-mailed statement yesterday. The campaign, codenamed "Barbarossa," will start May 31, it said.
MEND may consider a cease-fire if the Christian Association of Nigeria, the Catholic Church and the group's suspected leader Henry Okah intervene, according to the statement. The threat comes as the government of President Goodluck Jonathan battles Islamist militants in the mainly Muslim north and the capital, Abuja. Hundreds of of people have died since 2009 in bombings and other attacks.
MEND, the main rebel group in the Niger Delta, destroyed a Royal Dutch Shell Plc (RDSA) oil well in Nembe in southern Bayelsa state on April 13 as part of an operation it calls "Hurricane Exodus," Gbomo said.
Precious Okolobo, a Lagos-based spokesman for Shell's Nigerian unit, couldn't confirm the attack when contacted by phone.
Claimed Attack
MEND said April 3 it would resume attacks in Africa's largest oil producer after Okah was sentenced last month to 24 years in prison in South Africa. He was found guilty of 13 counts of terrorism, including a bombing claimed by MEND in which 12 people died in Abuja on Oct. 1, 2010.
On April 10, Nigerian authorities recovered 10 bodies of policemen killed four days earlier in an attack on a boat by gunmen in the oil-rich Niger River delta, Bayelsa state Police Commissioner Kingsley Omire said.
Three policemen and the boat driver jumped in the river in the southern state when gunmen opened fire and were later rescued, Omire said. The attack was claimed by MEND, which said it killed all 15 people aboard.
Shell, Exxon Mobil Corp. (XOM), Chevron Corp. (CVX), Total SA and Eni SpA (ENI) run joint ventures with state-owned Nigerian National Petroleum Corp. that pump most of the country's oil. Nigeria depends on crude exports for more than 95 percent of foreign income and 80 percent of government revenue, according to the Petroleum Ministry.
While Okah denies being a leader of MEND, he has said he commands the support of many armed factions in Nigeria's oil region.
Attacks including kidnappings and bombing of oil installations by groups including MEND cut more than 28 percent of Nigeria's oil output between 2006 and 2009, according to data compiled by Bloomberg. The violence declined after thousands of fighters accepted a government amnesty offer in 2009 and disarmed.
BLOOMBERG