Pushing To Rein In North Korea, Kerry To Meet Japan Leaders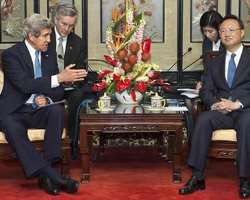 U.S. SECRETARY OF STATE JOHN KERRY (L) AND CHINESE STATE COUNCILOR YANG JIECHI DELIVER REMARKS AT THE DIAOYUTAI STATE GUESTHOUSE IN BEIJING APRIL 13, 2013.
U.S. Secretary of State John Kerry arrived in Japan on Sunday, the last stop on an Asian tour aimed at solidifying support for curbing North Korea's nuclear program and reassuring U.S. allies after weeks of threats of war from Pyongyang.
The North has threatened for weeks to attack the United States and South Korea since new U.N. sanctions were imposed in response to its latest nuclear arms test in February. Speculation has mounted of a new missile launch or nuclear test.
"We must make them (North Korea) recognize that their provocative actions will not benefit them at all," Kyodo news agency quoted Japanese Prime Minister Shinzo Abe as saying during a tour on Sunday of Iwo Jima, the site of a major battle towards the end of World War Two.
Kerry's talks with his Japanese counterpart, Fumio Kishida, coincide with preparations for the North's biggest holiday of the year on Monday, the Day of the Sun, the birth date of state founder Kim Il-Sung - an occasion for pomp and perhaps a military display.
The North's state media, one of the few ways of glimpsing what is happening in the reclusive country, have so far ignored Kerry's talks in Beijing and Seoul.
On Sunday, state television showed officials and servicemen applauding speeches extolling Kim Il-Sung in a vast hall, a giant portrait of the state founder hanging from a backdrop.
The KCNA news agency reported at length on floral tributes to the leader who launched the 1950-53 Korean War. But it also rejected as a "cunning trick" South Korean President Park Geun-hye's suggestion last week of holding talks with the North.
"If South Korea truly does have a will to have talks, they should rather change their confrontational attitude instead of playing on words," the agency said, quoting the Committee for the Peaceful Reunification of Korea.
North Korea has repeatedly said it has no intention of abandoning its nuclear program.
The South Korean capital, Seoul, displayed the calm it has shown throughout the crisis. Residents strolled in bright sunshine, visiting street bazaars and ancient temples.
On Saturday, Kerry met leaders in China, the North's sole diplomatic and financial benefactor, and said China and the United States were committed to "the denuclearization of the Korean peninsula in a peaceful manner".
During his first stop in South Korea, where the United States has 28,000 troops stationed, Kerry said North Korea, furious at joint U.S.-South Korean military drills, would be making a "huge mistake" if it were to launch a missile during the current stand-off.
He also said China was in a position to influence the North's policy and had to put "some teeth" into efforts to persuade Pyongyang to alter its policies.
Japan, separated from North Korea by less than 1,000 km (625 miles) of water and a frequent target of its anger, is well within range of North Korea's medium-range missiles.
DESTROYERS, INTERCEPTOR MISSILES
Japanese news reports said Tokyo had sent Aegis-class destroyers capable of missile interception to the Sea of Japan. Patriot Advanced Capability-3 interceptor missiles have been deployed at key locations in the capital and surrounding areas.
In Beijing, Kerry said that if North Korea abandoned its nuclear capabilities, the United States would have no reason to maintain recently deployed defensive capabilities - like new or expanded missile defense systems in Alaska and Guam.
Kerry's agenda in Tokyo is also likely to include talks about Japan's territorial disputes with China, and the future of U.S. bases in Japan.
The United States and Japan this month announced an accord for the return to Japan of a U.S. air base there, a step towards resolving an issue that has long troubled relations.
On his way into Tokyo, Kerry paid a brief visit to the city's Zojoji temple, where he lingered in its doorway amid the sound of gongs and the scent of incense. He also played with a friendly toddler, Ryousei Furuta, outside the temple and took a look at a Himalayan cedar tree planted in 1879 by General Ulysses Grant, the 18th president of the United States.
REUTERS