FEDERAL GOVERNMENT MOVE TO CONVERT NATIONAL THEATRE/STADIUM!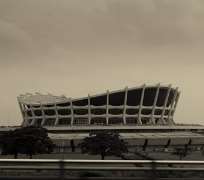 The report by a session of the media that the Federal Government is moving to turn the National Arts Theatre, Iganmu – Lagos, to a five-star hotel is appalling, disappointing and defeats the spirit and original idea behind the building of this great monument. The National Arts Theatre built in the 1970s to celebrate the Festival of Arts and Culture, popularly referred to as FESTAC '77, to showcase, promote and preserve Nigeria and by extension Africa's arts and rich cultural heritage must not be allowed to extinguish.
Truly this historical edifice has been neglected and practically abandoned by every successive government to the detriment of our rich cultural heritage, young and talented artists. We cannot continue to wipe away our history because a few amongst us has refused to get it right. What the masterminds of this Arts Theatre conversion, is telling me and other parents is that we may not have the arts theatre to point to our children and grand children when telling them the story about FESTAC '77?
In the past, the arts theatre witnessed live performance of Nigerian plays, exhibition of the rich Nigerian cultural heritage which is part of our pride as the largest black nation in the world. Usually, most weekends and public holidays witnessed large turn-out of people at the arts theatre to watch different live performances and cultural exhibitions that would be at display there then but, not anymore.
The National Arts Theatre in Lagos is very central to Nigeria when it comes to arts and culture and, we must do all it can to protect and engage it. Any country that lacks in the promotion and preservation of its arts and culture denies its peoples, most importantly the children/youth of knowledge, pride and identity of who they are. The Ministry of Tourism and Culture is a ministry that sees to the promotion, preservation of our culture, doing that which requires that arts and cultural histories must not be tampered with. We had expected that the Ministry will focus on the rehabilitation of the arts theatre in Lagos and, begin preparation towards building another in the FCT, because it is very unimaginable that a country's capital do not have a national arts and cultural centre where they can exhibit their rich culture for visitors.
The arts theatre is a cultural edifice belonging to the people of Nigeria and must be protected by the Federal Government on behalf of the people. It is just because our tourism ministry is not thinking positively that our arts theatre is lying comatose and now, we hear of contemplation of it to be converted to a five-star hotel. It is in this edifice, in the mid 1980s, that I, with other students in my days watched live a popular Nigerian play by Ola Rotimi, The Gods Are Not To Blame. Why would a country like Nigeria not know that it is very vital for us to have an arts theatre and equally put it in use for the benefit of the people? Today in Nigeria tourism is gradually dying, not because we lack tourist sites, or we do not have things to show but, because the managers of those in the ministry are not positively positioning or investing greatly in the tourism industry. It is said that in Nigeria, the only way people relax is visiting drinking joints and that is why we have more drinking bars, parks and gardens scattered everywhere in Abuja, Lagos, Port-Harcourt, Calabar, Uyo, Enugu, Owerri, Kaduna, Jos, etc. No theatres, no cinemas, it is very absurd!
Again, in the last few years, we have seen more of hotels springing up in virtually every city visited. Are hotels the only property our government and leaders can maintain, manage? Our children are losing sense of who we are due to the deliberate wiping away of our history by our leaders all in the name of privatization. There are no government owned and managed arts theatre where the people could go during weekends or private/public holidays to relax, watch live Nigerian plays, movies or our rich cultural heritage. This is indeed not the right way to go.
It is the same thing that has befallen the National Stadium in Surulere-Lagos, the place is looking abandoned because the Ministry of Sports do not care and evidently do not know how to make the place useful. Perhaps, they are waiting for an opportunity to trade it off which affords them the opportunity to make personal gains. Meanwhile, it is also part of the responsibility of the Ministry of Sports to ensure this public building meant for sporting activities is adequately maintained and put in use to encourage our athletes to train harder for future competitions. The Ministry, usually give excuses of why it is difficult to sponsor competitions among athletes but, I have always argued against that. The truth about some of the officials at our agencies and ministries is that they lack honesty and patriotism, organizational skills, they are squarely interested in and about what to grab for themselves and themselves only. Our leaders must have a change of attitude in the discharge of their duties and help this country move forward, attain its glory in the comity of nations.
There are no sporting activities going on at the Abuja National Stadium because the ministry of sports is doing nothing to organize the abundant talents within and around Abuja. We had thought that part of the main reason behind the building of the Abuja National Stadium is to cater for the willing sports men and women up north. But, alas we goofed!
There are individuals and corporate bodies in this country that would be very willing to support sports competitions among our young talents, if only the officials managing our sports are sincere. It was the case in the past, when First Bank, UBA, LUTH, Mobil, NPA, NEPA, Water Corporation, Leventis, Abiola, Iwuanyawu, and others had supported sports development in this country. There is certainly no reason why our corporate bodies cannot invest in developing our sports men, women and facilities, when they are sure it would reduce the rate of armed robbery, kidnapping, '419' and all manner of criminality among our youth drastically. No, things must change in our way of managing affairs of Nigeria if we must develop. People have always wondered about how we got to this sorry state. It is as a result of the fact that we threw away merit for mediocrity, we embraced ethnicity rather than nationalism, we killed patriotism at the altar of personal gain. We cannot continue to convert, sale off, privatize our national monuments just because some incompetent and unpatriotic leaders mismanaged it over the years.
There were reasons to have built such very expensive national buildings by the Federal Government in the first instance, they worked before bad management brought them on their knees. It is still very possible to bring them on their feet again. It is no doubt that its corruption that we must fight to get back sound administration in this country, our patriotism is in low ebb hence, it must be restored with all that it requires to enable us function like the developed world.
In the 1970s, 1980s and early part of 1990s, the Nigerian sports men and women won laurels for this country. Most of them, Chidi Imoh, Innocent Egbunike, the Ezinwa brothers, Obisike Nwankpa, Eddie Ndukwu, Falilat Ogunkoya, Power Mike, Emmanuel Peters, Emmanuel Ikpeme, Mary Onyali, Peter Konyegwachi, etc. trained and engaged in matches that exposed them within the National Stadium, at the watchful eyes of some dedicated managers, sports journalists and ever critical Lagos fans. So not allowing these facilities work do not in any way adequately prepare our athletes for world championships perhaps, the reason the abysmal failure of our athletes at the last Olympic games. And, Nigeria, as a country suffers for it.
Written By Uzodinma Nwaogbe
Maitama – Abuja.

Disclaimer:

"The views/contents expressed in this article are the sole responsibility of

thewillnigeria.com

and do not necessarily reflect those of The Nigerian Voice. The Nigerian Voice will not be responsible or liable for any inaccurate or incorrect statements contained in this article."
Articles by thewillnigeria.com