Gov. Obi who presented three operational Vehicles and a trailer load of AIDS to ANSACA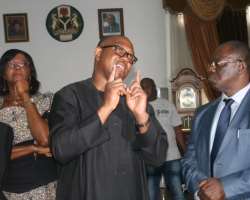 The Director General of National Agency for the Control of Acquired Immune Deficiency Syndrome (AIDS), Prof. John Idoko has commended Gov Peter Obi for his many initiatives that have contributed to good governance in the country. He was speaking yesterday when he led other officers of NACA on courtesy call to the Governor at his Lodge in Amawbia. Shortly after the Governor made presentation of three operational vehicles and a trailer load of AIDS kits for management of AIDS to the Anambra State Aids Control Agency (ANSACA).
Prof Idoko particularly commended the Governor for his position that those in power must strive to engage the people. He said that in line with the thinking of the Governor, that rather than stay at Abuja most of the time, that the agency would now do more of field work, visiting States that have AIDS prevalence as often as needed.
The Highlight of the visit was a presentation by NACA to the Governor of the problems of AIDS in the country, including in states such as Anambra and action plan the Agency had already drawn to intensify war against AIDS prevalence.
Calling for more political will to fight the scourge, Prof. Idoko said AIDS prevalence in the State was unacceptable, especially when the scourge was on decline in other countries in the last ten years. He said that the State implementation team had been formed for Anambta with three Committees to help in reducing prevalence, especially mother-Child transmission and called on the Governor to offer them necessary support.
Gov. Obi who presented three operational Vehicles and a trailer load of AIDS to ANSACA thanked NACA for their commitment and assured them that His Government would explore the partnership between his State and the agency towards reducing the scourge of ANID.
He regretted that most of the people manning sensitive Government establishments are concerned with transaction rather than transformation and would rather engage in things that benefit them rather than the people and the society.
He thanked NACA for the expository visit and assured that he would work together with them to reduce AIDS prevalence.