APGA Chairman begs Igbo elders to caution Umeh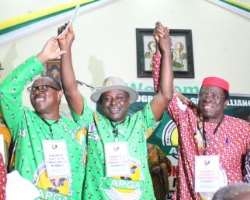 National Chairman of the All Progressives Grand Alliance, Mr. Maxi Okwu, on Thursday called on Igbo elders to caution Chief Victor Umeh, "against his penchant to blackmail anybody that differs with him."
He said this to journalists in Enugu while reacting to a statement credited to Umeh that he (Okwu) should apologise for insulting Ojukwu.
Umeh had accused Okwu of describing late APGA Leader, Dim Chukwuemeka Odumegwu-Ojukwu, as an "extremist" during the APGA convention in Awka, Anambra State, on Monday.
However, Okwu wondered why Umeh should attribute outright falsehood to people. He said, "I hereby call on his people to apologise on what was clearly falsehood, as I never at any point called Ojukwu an extremist or used an abusive word against him."
He insisted that Umeh, "from the manner he talks and the way he behaves these days, needs an assemblage of Igbo elders to talk sense into him and restrict him from behaving like a puppy dog jeering and tearing at anyone that disagrees with him."
Speaking further, Okwu said the worse is that, Umeh not allowing the spirit of Ojukwu to rest in peace by invoking him at any given time.