MERCY AIGBE REPLIES STELLA DIMOKO-KORKUS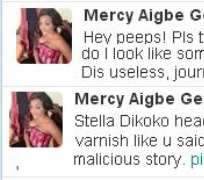 A few days back, the online media has been saturated with story of the sultry actress, Mercy Aigbe-Gentry over her alleged strange ordeal with her hubby at Troy Lounge, Ogba, Lagos.
An international journalist who wrote the story has since been lampooned by the mother of two, Mercy. Omoge Osas, as Mercy is fondly called by fans and friends, recent took to Twitter to prove that she did not cheat on her hubby and her dress was not missing as reported by popular journalist and blogger, Stella Dimoko Korkus.
The actress has been under serious fire ever since the report was published. Mercy claims her dress was not missing...and these are pictures to prove her innocence.
Meanwhile, tongues are wagging seriously that why didn't she prove it that same day? What if she recovered it and now claims it never went missing? Well, journalists are society watch dogs; the society needs them as well as they need the society.
Keeping quiet, for now, about the whole situation would have done a great deal for the actress but with this latest development, it's obvious that the battle line is drawn between her and the most dreaded and fearful blogger and writer, Stella Dimoko-Korkus.

Showing the dress to public