Nigerian Formed Police Officers receive medals in recognition of their contribution to AMISOM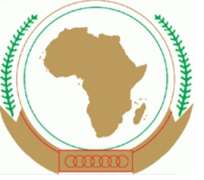 ADDIS ABABA, Ethiopia, April 11, 2013/African Press Organization (APO)/ -- The African Union Mission in Somalia (AMISOM) in conjunction with the Nigerian Police Force (NPF) held a medal parade at Mogadishu Stadium in appreciation of the contribution made by officers and men of the Nigerian Contingent of the AMISOM Formed Police Units who are about to complete their tour of duty .
140 officers and men from the Nigerian Contingent of the AMISOM Formed Police Unit were decorated with medals by Col. Timothy Kiguti (rtd) assisted by the Assistant Inspector General of the Nigerian Police Force (NPF), Mr. Danazumi Doma in recognition of their outstanding performance and committed service to the African Union Mission in Somalia. Mr. Doma while congratulating the officers and men for successfully serving in the AU Mission in Somalia reaffirmed the commitment of the Nigerian Government to peace in Africa.
"The Nigerian Government as a member of the African Union is committed to peace and stability on the continent in general and Somalia in particular. Our deployment of both Formed and Individual Police Officers is a clear testimony of our strong commitment to peace not only in Somalia but also the entire continent." He said.
The Nigerian Formed Police Officers alongside their colleagues from Uganda were deployed in Somalia last year to form the first deployment of Formed Police Units in the peacekeeping history of the African Union.
Speaking on behalf of the Special Representative of the Chairperson of the African Union Commission (SRCC) for Somalia, the AMISOM Chief Administrative Officer, Colonel (rtd) Timothy Kiguti expressed appreciation to the Nigerian Government for its continued support to peace in Somalia and the police component of AMISOM in particular.
"Your country's commitment to the stability of Somalia and the restoration of rule of law cannot be over-emphasized. We recall with appreciation that in 2010, Nigeria, Ghana and Sierra Leone were the first countries on the African Continent to contribute Individual Police Officers (IPOs) to the AU mission in Somalia. Their deployment marked a significant milestone towards the long journey of efforts to restore the rule of law in Somalia. "Further history was made in the same year when the IPOs were first deployed in Mogadishu at the height of intense fighting in Mogadishu where at that time, AMISOM and the Somali Government only controlled 30% of Mogadishu." He said.
Colonel Kiguti extended the Head of Mission's appreciation and that of the African Union to all donors and partners particularly the European Union, the governments of Italy, German and Japan for the material and financial support provided to the Police Component of AMISOM.