Cleric Tasks FG On Rising Crime Wave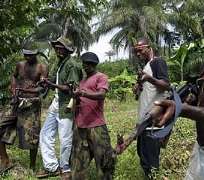 SAN FRANCISCO, April 10, (THEWILL) - The Federal Government has been asked to tackle the rising crime wave in the country.
Making this call in Ibadan, the Oyo State capital, Wednesday, was a cleric, Venerable Godwin Daramola, of the St. Anne's Anglican Church, Molete, Ibadan, who blamed the rising wave of crime and criminal activities in the country on greed and corruption.
Speaking at the 10th year memorial thanksgiving for the late Justice Atinuke Ige, wife of the slain Attorney General and Minister of Justice, late Chief Bola Ige (SAN), Daramola blamed the problems being faced by the country on selfishness, aggrandizement and craze for materialism on the part of the leaders.
"Nigeria is riddled with crime, insecurity, stealing, pipeline vandalisation, senseless killings of innocent people by the Boko Haram sect and danger has now become part of everyday life in the country," he lamented.
The cleric also lamented the seeming helplessness of the Federal Government to combat the social vices and charged the government to be decisive in taking actions that will arrest the situation.
Daramola, who faulted the calls for amnesty for the Boko Haram sect, wondered if amnesty should also not be granted to kidnappers, who have been extorting money from their victims.
Questioning the rationale behind the calls for amnesty to those he described as killers of innocent souls, the cleric asked whether the victims of the series of bomb attacks in the country should also not be granted amnesty.
"If Boko Haram people are granted amnesty, then the victims of the series of attacks also need to be granted amnesty. I am afraid if the kidnappers will also not be granted amnesty," he said.
Daramola however extolled the virtues of the late Appeal Court Justice and wife of the slain Attorney General, describing her as "a diligent, simple, unassuming, large-heated and erudite judicial officer, who stood for equity, justice, sagacity and integrity in the discharge of her duty while alive."
He therefore called on Nigerian leaders as well as politicians to emulate the qualities of the late Appeal Court Justice for Nigeria to be a better place to live in.