Thatcher's Funeral Plans As Divisive As Iron Lady Herself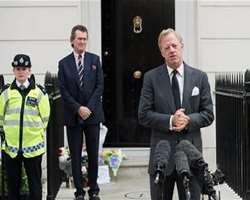 MARK THATCHER, SON OF FORMER BRITISH PRIME MINISTER MARGARET THATCHER, MAKES A STATEMENT OUTSIDE OF HIS LATE MOTHER'S HOUSE IN LONDON APRIL 10, 2013.
Plans for Margaret Thatcher's funeral turned into a security headache and a national talking point on Wednesday as the former prime minister divided Britain in death as she did in life.
Parties in several cities to celebrate the conservative politician's death on Monday ended in arrests and newspapers reported police may pre-emptively arrest known trouble-makers before they travel to her funeral next week.
Codenamed "Operation True Blue", the ceremonial funeral with military honors on Wednesday will begin with a procession through central London to a service at Saint Paul's Cathedral.
In a break with protocol marking Thatcher's exceptional stature, Queen Elizabeth and her husband Prince Philip will attend. The last time the monarch attended a prime minister's funeral was when Winston Churchill died in 1965.
But many opposed to Thatcher's free-market ideology say she was too divisive a figure to be sent off in a style usually reserved for royals like Princess Diana or the Queen Mother.
"Let's privatize her funeral. Put it out to competitive tender and accept the cheapest bid. It's what she'd have wanted," said filmmaker Ken Loach, whose movies denounce the impact of Thatcher's policies on working class communities.
Members of the public launched an e-petition on a government website calling for the funeral to be privatized as "an ideal way to cut government expense and further prove the merits of liberalized economics Baroness Thatcher spearheaded".
The petition gathered close to 34,000 signatures before it was shut down without explanation on Wednesday morning.
Left-leaning tabloid the Daily Mirror denounced the cost to taxpayers of what it called "the 10-million-pound goodbye". Downing Street said the figure was "pure speculation" and the cost of the funeral would be published after the event.
"THE WITCH IS DEAD"
The Daily Telegraph, a right-wing paper that was among the most reverential in its coverage, said it shut down internet comments on Thatcher stories due to "foul abuse".
The Official Charts Company said the song "Ding Dong! The Witch Is Dead", from 1939 movie "The Wizard of Oz", had climbed to number 10 in the singles chart as a result of a campaign by Thatcher haters to try and push it up to number one.
Such reactions to the death of the prime minister from 1979-1990 were condemned by Conservatives as well as by some opposition Labour figures such as ex-prime minister Tony Blair.
Recalled from Easter recess, parliament was due to hold a seven-and-a-half-hour debate on Thatcher's legacy on Wednesday.
Prime Minister David Cameron, Conservative Party leader, will pay tribute but Labour lawmakers were expected to criticize her record of crushing labor unions, privatizing industry and de-regulating financial services.
Some Labour members of parliament refused to attend.
"I'd rather be put in a torture chamber," Ronnie Campbell, whose constituency in northern England was hard-hit by Thatcher's reforms, told BBC radio.
Since the 87-year-old's death from a stroke, reactions have ranged from Cameron saying she "saved our country" to far-left protesters posing for cameras with banners reading "Rejoice!".
In Brixton, a south London area hit during the Thatcher era by huge riots in 1981, protesters scaled a cinema and replaced movie titles with the words "Margaret Thatchers dead LOL" (sic). They also hung a banner that read "The bitch is dead".
Disturbances took place in Liverpool and Glasgow, two cities ravaged by Thatcher's dismantling of state industries.
The Independent and The Evening Standard reported police may pre-emptively arrest trouble-makers. But police declined comment, saying they would use "a range of appropriate tactics"
London's Metropolitan Police said it "wishes to speak to anyone who may chose to demonstrate ... so that their right to protest can be upheld whilst respecting the right of Baroness Thatcher's family and those who wish to pay their respects".
As well as the threat from anti-capitalist activists with a long record of violent protest, security forces will be mindful of any action from dissident groups from northern Ireland.
Thatcher escaped assassination in 1984 when the Irish Republican Army (IRA) blew up a hotel where she was staying. The IRA laid down arms as part of a peace deal, but Thatcher remains a hate figure to many on the other side of the Irish Sea.
REUTERS