CJN Expresses Worry Over Judges' Performance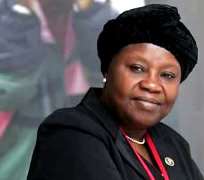 SAN FRANCISCO, April 08, (THEWILL) – The Chief Justice of Nigeria, Justice Aloma Mukhtar, Monday, in Abuja expressed worry over the dwindling performance of judges in the country, saying public confidence in the judges is waning..
Speaking at a refresher course on how to write judgment organised for judges and Khadis by the National Judicial Institute, the CJN said that public confidence in justice delivery was beginning to wane.
"The National Judicial Council through its Performance Evaluation Committee is concerned about the quality and quantity of the output of judges in terms of the monthly returns they file," Mukhtar said as she stressed that NJC would strengthen the work of the evaluation committee and that performance reports of judges would also be used to discipline them.
"Let us not deceive ourselves, the public confidence and trust in our work as judicial officers is beginning to nosedive.
"This is borne out partly from judgment emanating from our courts which the public or some section of it feels is rather unconscionable," the CJN said while addressing the judges.
She noted that even though judges had discretion in some cases, she added that "the exercise of any discretion in adjudication must be judicially, judiciously and reasonably exercised."
She therefore called on judges not to put themselves in positions where the exercise of their discretion would be deemed to be unreasonable in the estimation and assessment of a reasonable member of the society.
The CJN said NJC would not hesitate to wield the big stick where a judge was found to be complicit in the writing and delivery of a judgment.
"Of course a public uproar or placard carrying scenario against the judgment of a court of record is not the to the credit of the judiciary.
"I have heard the aphorism a couple of times that in the court the rich get bail while the poor get jailed. To what extent have we as judges turned justice as within the reach of the highest bidder?," she asked.
In his welcome address, the Administrator of the National Judicial Institute, Justice Umaru Eri, reminded the judges that the sustenance of peace in the country depended to a great extent on what judges did in courts.
He therefore called on the judges to strive to write better and clearer judgments that have both life and blood in them.
Also speaking at the occasion, the Chairman of the Independent Corrupt Practices and other related Offences Commission (ICPC), Mr Ekpo Nta, who was represented by Alhaji Ibrahim Bako, said the commission had filed many criminal cases in court but pointed out that the trials were stalled by frequent adjournments.