N'Delta: Army Begin Manhunt For Suspected Killer Of Two Soldiers In Kokori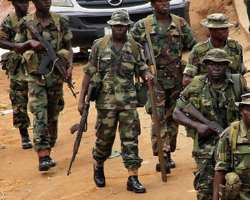 SAN FRACISCO, April 08, (THEWILL) – The 3 Battalion of the Nigerian Army, Effurun, near, Warri, Delta State, Monday, began the manhunt for the suspected killer of two soldiers in an attack which also left two other soldiers injured last week with the deployment of more troops to Kokori, Ethiope East Local Government Area of the state.
The State Police Command has equally sent armed policemen to the troubled community which has since been deserted by residents for fear of being arrested following the deployment of the troops that have taken over the community.
The suspect, identified as Kelvin , was alleged to be the one who launched a voracious attack on the van of the Nigerian Prison Service during which about four wardens and inmates were killed some few weeks ago while they were taking suspects to court in Warri.
Kelvin, who is notorious for carrying out high profile kidnapping and assassination in the State,
is believed to have been hibernating in the community since he was declared wanted after the attack on the prison van.
The suspect is well known to the police in the state and other security agents including the Delta State Waterways Security Committee. He and his gang members reportedly opened fire on some soldiers patrolling the community during which the two soldiers were killed as several others sustained bullet wounds.
The security agencies have since been working in tandem to track the suspect.
It was reliably gathered that the suspect had turned Kokori area into his base where victims of kidnapping across the state and sometimes several kidnapped persons are brought and kept in forests around the area until huge ransoms are paid to secure their release.
Confirming the killings of the two soldiers, Monday, the Commanding Officer of the 3 Battalion Effurun, Lt. Col. Ifeanyi Otu, said effort has been stepped up to apprehend the criminals.