Yobe: Gaidam Picks Medical Bills Of 21 Chronically-ill Persons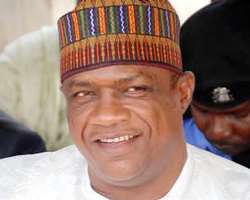 GOVERNOR IBRAHIM GAIDAM OF YOBE STATE
SAN FRACISCO, April 08, (THEWILL) – Governor Ibrahim Gaidam of Yobe State has approved the release of the sum of N100 million for the treatment of 21 chronically-ill persons in the state whose conditions require advanced medical treatment outside the state.
The beneficiaries, who will receive treatment in specialised centres both within and outside the country, include a female police corporal, Habiba Agwam, who is suffering from acute myeloid leukemia and requires a bone marrow transplant.
A child born as a hermaphrodite will also benefit to enable doctors determine which of the chromosomes is dominant in the child and perform the operation accordingly.
A statement signed by Gaidam's special adviser on press affairs and information, Abdullahi Bego, said the governor approved the sum of N13 million for Miss Agwan to undergo the bone marrow transplant in Singapore.
Also, six patients are to be sponsored for kidney transplant; seven for spinal cord surgery, and two others are cases of open heart surgery. There is also a case each for coronary angiography and bypass heart surgery and a patient for cochlear transplant.
The statement said while the state government will continue to review and upgrade the services of its health centres, the gesture by the governor is humanitarian and is designed to help people who are in dire need of such support.
Gaidam , according to the statement, gave the approval following a review of the affected cases and recommendations by the state medical board.