U.N.'S Ban Says Chemical Weapons Team Ready To Deploy In Syria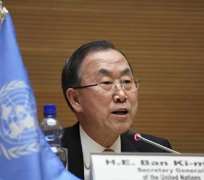 U.N. Secretary-General Ban Ki-moon said a team to investigate claims of chemical weapons use in Syria was ready to deploy within 24 hours and urged the Syrian government to give the go-ahead so work could begin.
Ban, who met the head of the global chemical weapons monitoring body in The Hague on Monday, said an advance team had been sent to Cyprus. "We are ready, it is a matter of time," he said. The full team will consist of 15 experts, including inspectors, medical experts and chemists.
"All we are waiting for is the go-ahead from the Syrian government to determine whether any chemicals weapons were used, in any location," Ban said. He urged the Syrian government to be more flexible so the mission could deploy as fast as possible.
REUTERS