THE LAW OF UNINTENDED CONSEQUENCES OF AMNESTY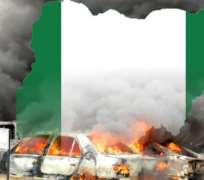 When the Palestinians were running away from their homes for immediate comfort and safety in 1947-8, little did they know that they would never return to the places they once called homes. There is no way to exaggerate the role of 1948 in the history of Middle East. The six day war gave Israel most of Jerusalem and West Bank settlements but it is one thing to win the war and it is another thing to consolidate the gains of the war and translate it into what Israel desperately want which is peace. Most of the chaotic happenings in the Middle East ever since have been part of unintended consequences of that war.
Recent Kano bombing reminded us of the law of unintended consequences of the amnesty granted to the militants of Niger Delta. It was indeed an unintelligent and inhumane response to President Goodluck's refusal to grant amnesty to vicious, unconscionable and brainless Boko Haram. I will not only be surprised but shocked if the issue of another renegade group wanting amnesty was not discussed during the deliberations for granting amnesty to the militants under Late President Umaru Ya'adua. If it was deliberated, what was the measure of action decided as a response if and when it arises as it is the case now? If this possibility was never raised at the meeting, it speaks volume not only on the quality of leadership we have but the level of in-depth knowledge of our policy makers in our idiosyncrasies.
Nigeria over the decades after the independence has turned out to be a country of people going through identity crises. Awareness and deep seated tribal consciousness has overtaken national identity, patriotism and a formidable unity which has slowed the pace of our national development. There is no country on earth where the adage "what is good for the geese is good for the gander" is applied better than in Nigeria. Everything must be duplicated to at least in six and sometimes thirty-six to placate the component tribal units. In view of this, federal government should not have granted amnesty to the militants in the first place, knowing fully well that there are other renegade groups whose activities may deteriorate to the extent of clamour for another amnesty as it is happening now.
Nigeria being a mono-economic oil producing country was almost nose-diving into economic crises when the activities of militants of Niger Delta was at its peak leading to government's desperate measures to restoring full capacity oil production, hence amnesty as an escape route. It is understandable that at the time amnesty was granted to militants, Nigeria was in a dire need of a miraculous solution to the obstacle of her economic wellbeing. The solution brought a temporal succor to the nation but came with it, a long time consequences that are largely unintended and still lingering to the present day. The consequences are here and I hope the Federal government will not fall into the same mistake again especially as they are aware MASSOB, OPC, etc are all watching.
Personally, I don't support amnesty as a solution in the first place, not to the militants and not to Boko Haram and definitely not to any other arms carrying group no matter under any precarious situation Nigeria may be in. Every government should have a standing rule which never bends no matter any circumstance or who may be affected especially as it affects security of life and property of the people which is the primary duty of every responsible government. The act of taking arms against the state is a serious act of treason which should be viewed as such. However, some hold the view that groups like Niger Delta militants are the creation of injustice and unequalled allocation of the resources of the state. If that is admitted as a justifiable and undeniable truth, then what is the place of educated unemployed graduates who refused to take arms against the state? The truth is there are many Nigerian unemployed graduates both in Niger Delta and Boko Haram ridden areas who are still law abiding even in the face of their difficulties yet nobody is thinking about them. If Federal government keeps granting amnesty and paying handsomely to groups of violent Nigerians, the message to good citizens will be clear, get arms and get what you want.
This is the time government at both the Federal and State levels should work assiduously well toward improving not only infrastructure but human capital development. The system of using momentary solutions laced with dangerous unintended consequences should be discarded and seen as archaic way of dealing with systemic problems. There are countries of the world that stand on the principle of never negotiating with renegade groups or terrorists and they rather solve the problem through other options because in every situation or problem, there are many options to its solution. Once this principle is established, the masquerades of violence for economic gain will give way for the government to have a clear view of its enemies within who are not asking for pardon and pay off but are out to fight until they are defeated because they must always be defeated.
President Jonathan responded well to Borno elders asking for amnesty on behalf of Boko Haram who the president referred to as ghosts. The Federal government as presently led by Dr. Goodluck Jonathan should save Nigeria a lot of future pain and chaos by not extending amnesty to any other militant or terrorist groups and the door for amnesty as a solution should be shut permanently and expunged from policy of the Federal Republic of Nigeria.
Written By Obi Ebuka Onochie
[email protected]
Port-Harcourt.

Disclaimer:

"The views/contents expressed in this article are the sole responsibility of

thewillnigeria.com

and do not necessarily reflect those of The Nigerian Voice. The Nigerian Voice will not be responsible or liable for any inaccurate or incorrect statements contained in this article."
Articles by thewillnigeria.com