PDP Raises The Alarm Over Alleged Destabilisation Plan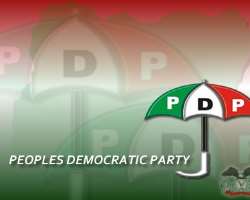 SAN FRANCISCO, April 07, (THEWILL) – The Peoples Democratic Party (PDP) has raised the alarm over alleged plans by some politicians to destabilise the party.
The party stated that it had uncovered plans by "a tiny clique of undemocratic elements to use cohorts in the Independent National Electoral Commission (INEC) and bad eggs in the judiciary" to discredit its leadership and destabilise the party.
A statement issued on Sunday by the party's National Publicity Secretary, Chief Olisa Metuh, said: "We wish to alert Nigerians to a destructive plot by certain reactionary forces who working hand in glove with collaborators in the INEC have manufactured a spurious report, specifically aimed at destroying the credibility of the party's 2012 National Convention which brought in the current National Working Committee (NWC) using judicial officers of questionable integrity."
The party said "such a maniacal re-visit of the 2012 National Convention over a year after it was held to a popular acclaim of all party members was a measure of the desperation of some politicians to achieve selfish ambition even at the risk of destroying their party."
According to the statement, "till date, the PDP remains the only political party in the country that conducts transparent internal elections which start with the ward, local government and state congresses culminating in the national convention. The 2012 exercise was not only unique in the level of participation of party members but in the rancor free, sports-like attitude which various contestants exhibited."
It added that " The current NWC since inauguration has maintained a sound working rhythm with the members and critical stakeholders- the President, the National Assembly which the party controls and the PDP State Governors whose newly-formed forum which the party leadership engineered, is already sending cold shivers and causing coolly-wobbles in the opposition camp."
The statement further said that with the recently concluded peace and reconciliation tour of the party's NWC and the complementary peace initiatives by the chairman of the PDP Board of Trustees, " the wheel of reconciliation and progress is gradually turning full circle."
According to the party, "In whose interest therefore are these system vampires fighting? In whose interest and at whose behest are these merchants of infamy laying these mines which could blow our great party sky-high.
"It is no doubt in the service of selfish interest of this tiny clique of politicians of fortune, those whose ambition must be served or the party crumbles."
The party however warned: "We as leaders of this great party will not fold our hands while those whose lack of self confidence in free and fair democratic process which our leadership has set as a sine qua non for the 2015 electoral exercises has driven into an unconscionable frenzy of either hijacking the party or destroying its hard earned democratic credibility."