CAREER: ARE YOU LIVING OUT YOUR CALLING?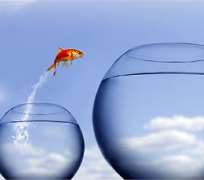 As you face a new year, can you confidently say you are living out God's calling on your life? Or can you at least say you are moving toward living out the life God has designed for you?
Look around. Talk to people. Read studies. Most people are stuck in a job or career they see as "drudgery," a dating relationship that has them going nowhere, or a course of life that they are not enjoying. They are surviving, but not thriving. But this can be the year you begin to thrive...as you look at the calling God has placed on your life and you begin to live it out.
God created us to love Him and enjoy Him forever. That means He also created us to do what we enjoy doing. But so many people settle because it's easier (for the moment), it's more comfortable (they think) and it's "safe" (although drudgery can be torturous, at times).
Here are three principles to keep in mind when it comes to living out your calling and thriving in your life this year:
1) God calls us to obey Him...and obedience leads to joy.
When we follow Christ, we aren't promised continual blue skies and unlimited happiness. Jesus did say that to follow Him involves denying ourselves and picking up a cross. At times that will mean suffering. And it will mean experiencing situations that cause us to depend on Him all the more. But there is a deep-seated joy that comes from the peace and satisfaction of knowing we are in God's will.
For example, my husband is a pastor. That includes a lot of not-so-glamorous tasks associated with shepherding people. He doesn't necessarily love his job at times, nor does it make him ridiculously happy.
But because He is doing what God has called him to do, He experiences far more peace, joy and satisfaction than if he ran from the position and deafened His ears to God's call.
David said in Psalm 16:11 "In your presence is fullness of joy, in your right hand there are pleasures forever." David knew that a life lived in close relationship with God, and therefore obedience to Him, produced joy.
Jesus said in John 15:7 "If you remain in me and my words remain in you, ask whatever you wish, and it will be given you." He then clarified what it meant to "remain" in Him: "If you obey my commands, you will remain in my love, just as I have obeyed my Father's commands and remain in his love" (verse 10). He then promises joy as a result: "I have told you this so that my joy may be in you and that your joy may be complete" (verse 11).
So, if you are honoring and obeying God in all that you do, you might not necessarily be happy all the time, but you will experience the deep joy and peace that comes from remaining in His presence. Ask God for a heart to obey Him more this year. Obedience to God always results in a life of joy.
2) God calls us to glorify Him....and glorifying Him brings joy.
God often lays something on our hearts that He wants us to accomplish for His glory. And there is no greater joy than glorifying God with all that we are and all that we have.
When Jesus said "ask whatever you wish and it will be given you" He followed it up by saying "This is to my Father's glory, that you bear much fruit, showing yourselves to be my disciples" (John 15:8). Bearing fruit (good works) and being Christ's disciple is not an option for a follower of Christ. It is a given. It will automatically happen as you obey Him, remain in Him and honor Him with your life.

Written By Dr. Lewis Akpogena
[email protected]

Disclaimer:

"The views/contents expressed in this article are the sole responsibility of

thewillnigeria.com

and do not necessarily reflect those of The Nigerian Voice. The Nigerian Voice will not be responsible or liable for any inaccurate or incorrect statements contained in this article."
Articles by thewillnigeria.com