Jonathan: Terrorists Can't Stop Transformation Agenda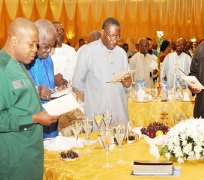 SAN FRANCISCO, April 06, (THEWILL) – The Federal Government has stated that it will not bow to terrorists even in the face of general insecurity in the country.
President Goodluck Jonathan , who stated this , Saturday, maintained that the current spate of violence will not in anyway distract his administration from pursuing and achieving result with his transformation agenda.
Speaking at the third edition of the Presidential National Prayer Breakfast which held in Abuja, President Jonathan, who was joined by the Head of Interim National Government, Chief Ernest Shonekan, implored Nigerians to be hopeful, focused and cautious so as to tackle all forms of evil confronting the nation.
"As we pray, our thoughts no doubt will be dominated by the challenges facing our nation, particularly that of security. Providence has placed us all at our various posts at this particular time in our nation's journey to greatness, therefore we must not be deterred or be weary in spirit at this time"
" We must be hopeful, focused and watchful to overcome all that is evil confronting our nation. We should remember the saying in the scriptures that with men, it is impossible but with God all things are possible", Jonathan said.
Maintaining that the prayer session was not a jamboree, Jonathan stated that it is was an exercise of devotion intended to channel spiritual energies towards prayer to God for wisdom, strength, courage and guidance to enable leaders to take and implement the right decisions in the interest of the led.
Speaking further, Jonathan said, "In the book of Jeremiah, God said if you seek me with all your heart, you will find me. May we seek him with all our hearts, so that He can empower us to overcome all the evil forces trying to derail this nation . May we seek him with all our hearts to let his light shine over our nation and to guide us in leading our great nation to its destined goal.
"Believe that all of us begin to do what is right individually and collectively, surely we take our country to the destination we expect, we pray that God should use all of us Nigerians who know the right thing to do, to use all of us as change agents because if all of us do what is right, this country will continue to be a great nation."
The presidential admonition came as a Kano-based Pastor, Julius Afolabi Falola , observed that God has designed a great future for any country that is prayerful, stressing that God was ready to bless and lift up a nation that would obey him and do His will.
Israeli ambassador to Nigeria, Moshe Ram, who read the first lesson of the prayer session from Deuteronomy 28: 1-10, recalled the holocaust and the sacrifices Africans made to end the Second World War.
Others who offered prayers at the occasion included Pastor Emmanual Kure of the Throne Church, Kafanchan, Kaduna State who offered the opening prayer at the event. This is as the Secretary General of the Catholic Church,Reverend Father Madu, offered prayers for the President and the nation while Ambassador of Burundi to Nigeria offered prayers for world leaders.
In his contribution, Benue State governor, Gabriel Suswam, who attended the prayer breakfast with his wife, said: "I believe that whatever religion that we practice, all of us believe that there is a supernatural being somewhere that we must call upon, and worship at all times so as to be able to intervene in all activities that we engage in."
Others at the prayer session were the Deputy Senate President, Ike Ekweremadu; Deputy Speaker of the House of Representatives, Emeka Ihedioha; Abia State governor, Theodore Orji, members of the Diplomatic Corps and top government officials