Boko Haram: PDP Hails President Jonathan Over Amnesty Committee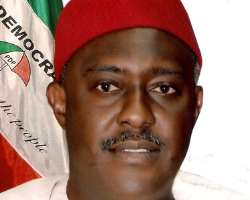 PDP NATIONAL PUBLICITY SECRETARY, OLISA METUH
SAN FRANCISCO, April 05, (THEWILL) – President Goodluck Jonathan has been commended by the leadership of the ruling Peoples Democratic Party (PDP) for summoning the courage to constitute an Amnesty Committee on the Boko Haram insurgency.
The party therefore called on the leaders of the north to take advantage of the President's initiative and pursue peace so as to return the entire north to its lost glory.
Describing the move as yet another demonstration of the President's sincerity and forthrightness in handling national issues, PDP in a statement, Friday, by its National Publicity Secretary, Olisa Metuh, said the President has shown that he is indeed not only a listening leader but one who takes the unity of the country so dear to his heart in line with the vision of the founding fathers of the nation.
"We believe the initiative of the President in setting up the Amnesty Committee is the best decision at the moment and we are optimistic that this drive will yield the desired results in the general good and restore the unity of our nation.
"In giving the committee the terms of reference to consider the feasibility or otherwise of granting amnesty to the Boko Haram adherents and to collate the clamour arising from different interest groups who want the Federal Government to administer clemency on members of the religious sect and to recommend the modalities for granting amnesty if necessary, the President has again shown his humility and commitment to carry all Nigerians along in all his actions in line with the tenets of democracy.
"We assure Nigerians that the PDP remains resolute in the commitment to restoring peace in the country, especially in the north and to return the region to its lost glory as the hub of unity, investment and trade in the country and the West African sub-region," the statement said.
According to the ruling party, "It is on record that the north is the most receptive region in the country.
Indeed there is no part of the country that is more accommodating than the north which has always been home for all people, irrespective of religious creed and tribal affiliations.

"We therefore call on the leaders of the north to take advantage of the President's initiative and pursue peace so as to return the entire north to its lost glory."