Labor 'Scarring' A Reason To Keep Buying Bonds: Fed's Rosengren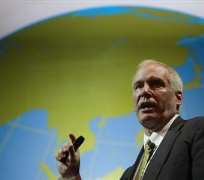 A "scarring" of the labor market calls for the Federal Reserve to continue buying bonds through this year, and even more aggressive policies may be warranted if unemployment remains persistently high, a top Fed official said on Friday.
Boston Fed President Eric Rosengren, a dovish voter on the Fed's monetary policy committee this year, in a speech highlighted the pain high rates of joblessness can cause for less-educated Americans looking for work in the wake of recession.
Spells of unemployment can have "a lasting impact long after the economy recovers," he said in prepared remarks to an early childhood forum in Boston.
"If spells of unemployment have a persistent impact on income, wealth and home ownership, then a more aggressive response to persistently high unemployment rates is warranted."
Rosengren continued: "More rapid economic growth is likely to not only reduce the unemployment rate, but also reduce some of the collateral damage the economy may otherwise face from the spells of long-duration unemployment.
"Continued accommodative policy, such as continuing our asset purchase program through this year, is an appropriate response to labor market scarring," he said.
The Fed is currently buying $85 billion in longer-term asset per month to spur investment, hiring and broader economic growth.
REUTERS