God Has Silenced Our Enemies - Mercy Johnson's Mum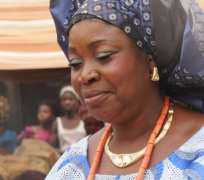 Just as family and friends await the arrival of Nollywood actress, Mercy Johnson and her new born child, Purity, her mother says her God silenced enemies that never thought her daughter would marry her heart desire, Prince Odi Okojie.
In an interview with Nollywood Insider, Mercy's mum said:
"God has finally silenced our enemies. Those who thought my daughter would not marry Odi have failed, thanks to the almighty God that I serve. They tried but could not prevail over what God has destined. We are going to welcome them in a big way. As you can see, we have started preparation to receive them. Things are been bought.
The Aso Ebi will be bought soon and when they come, they will choose the pattern they prefer. Purity is my 14th grandchild. She will be taken to Uromi before coming to Lagos then I will be ready to take care of my baby. I was to go to USA with them, but I could not since my husband was not well then. But now, all is well."
She also hinted there might be two naming or dedication ceremonies for baby Purity.
According to her,
"I might not be able to travel that long distance. If that will be, then there may be a thanksgiving or our own naming ceremony here.
What stops us to having two ceremonies for such a celebrated child, as Purity?"
>

click the link below to go to..
MORE PICTURES FROM MERCY JOHNSON'S WEDDING.
E-x-c-l-u-s-i-v-e: UNTOLD STORY OF MERCY JOHNSON'S WEDDING+ THE MAD WOMAN SCENERIO.
MERCY JOHNSON BURST INTO TEARS ON MOVIE LOCATION, FINALLY RESOLVED FOR A SECRET WEDDING.
MERCY JOHNSON'S FIANCEE FINALLY OPENS UP,LOVELY WANTS TO RUIN MY RELATIONSHIP AND PRESENT HAPPINESS.
EXCLUSIVE PICTURES: AT LAST! PRINCE ODIANOSEN EXCHANGED MARITAL VOWS WITH MERCY JOHNSON AT CHRIST EMBASSY.
STAR ACTRESS MERCY JOHNSON'S TRADITIONAL WEDDING PICTURES.
PRINCE ODIANOSEN,ESTRANGED WIFE,LOVELY OKOGIE FINALLY LOST THE BATTLE TO MERCY JOHNSON.
NO EVIL HANDS OR THOUGHT AGAINST MERCY CAN WORK.MERCY JOHNSON'S MOTHER.
LOVELY OKOJIE REACTS TO PRINCE ODI'S INTERVIEW,HE IS A BIG LIAR.
EXCLUSIVE! MERCY JOHNSON WEDDING PLANS SUFFERS SET BACK AS PRINCE ODIANOSEN'S WIFE SHOWS UP WITH KIDS.
MERCY JOHNSON IN DISTRESS,RAN TO MOUNTAIN OF FIRE MINISTRIES TO SEEK FOR DIVINE INTERVENTION.
WEDDING: MERCY JOHNSON PICKS AUGUST DATE AND DETAILS OF THE SUPERLATIVE WEDDING.
EXCLUSIVE;GAMEOVER FOR MERCY JOHNSON AS FIANCE'S WIFE CAME UP WITH MARRIAGE CERTIFICATE.
E-X-C-L-U-S-I-V-E Interview: The Certificate I Signed Was For Our Child's Welfare'-Mercy Johnson's Hubby Said At Last.