Jonathan Kicks Aondoakaa Out Of Justice Ministry, 4 Ministers May Go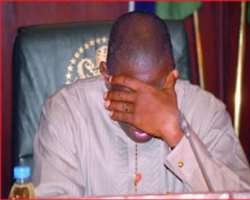 PHOTO: ACTING PRESIDENT GOODLUCK JONATHAN PRAYING BEFORE WEDNESDAY'S MEETING.
San Francisco Feb 10, (THEWILL) – The one time powerful and controversial Attorney General and Minister Of Justice, Mr. Michael Aondoakaa was on Wednesday removed from his pivotal position and moved to become the new Minister of Special Duties in a slight cabinet reshuffle by Acting President, Dr. Goodluck Jonathan.
Prince Adetokunbo Kayode SAN, the Minister of Labour was appointed the new Attorney General and Minister of Justice while former Special Duties Minister Ibrahim Kazuare replaced Kayode as Labour Minister.
Aondoakaa was among those Ministers who opposed a constitutional provision requiring the ailing president to transmit a letter to the National Assembly that would have allowed Goodluck Jonathan easily become acting president.
"There was a swap in the cabinet. I am now the Minister of Special Duties while the Minister of Labour takes over from me," Aondoakaa told reporters after the meeting.
Sources familiar with deliberations at the Executive Council of the Federation Wednesday meeting, which lasted for six hours, said Aondoakaa tried to save his job before he was removed. The Benue indigene who was embroiled in a public row with information Minister Dora Akunyili was seriously reprimanded by his colleagues for his role over the refusal of Yar'Adua to transmit the necessary communication to the National Assembly.
A Presidency source told THEWILL that at least four cabinet Ministers may be removed soon in a major cabinet reshuffle as the acting president continues to pilot the affairs of Africa's most populous country.
Meanwhile, the anticipated debate on Professor Dora Akunyili's memo did not hold, a Presidency source said it was delisted from the agenda of the meeting because of the successful political solution by National Assembly.
|
Article source