WHY ARIK AIR IS TOO BIG TO FAIL AND HOW TO SAVE IT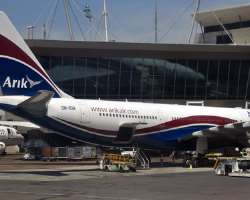 For those who don't know, Arik Air is currently dying a slow death, and here are some of the signs. Currently, an A-330 aircraft ordered and already painted in Arik's colours has been sitting in Ireland since September 2013. Also, there is currently an effort online to get a critical mass of people owed by Arik to file a class action law suit against the airline in Europe – implication of this is that Arik's aircraft could be impounded in Europe, if they obtain such judgement in Europe. Arik is currently largely owned by AMCON, due to its non-performing bank debts. Arik currently owes its biggest Nigerian vendor, FAAN, about N7billion. I can go on and on. But the reason for this write-up is to find and implement credible solutions to overcome Arik's challenges.
Arik is too big to fail for the following reasons. It is the biggest airport customer in Nigeria, without Arik some Nigerian airports will not be in operation. Also, Arik is the only truly national airline in Nigeria, with the widest route network, and highest flight frequency in the country. Regionally, Arik is the only Nigerian airline, which currently connects Nigeria to key African cities via scheduled flight operations. There is also an emerging battle for South Atlantic air routes, connecting Africa to South America, going on right now, and a weakened Arik is just watching. Ethiopian Airlines has positioned itself in Lome to drive traffic from Nigeria to its Lome-Sao Paulo route, scheduled to launch in June. If Arik is allowed to fail, its effect will be great indeed.
Let's look at Arik's first challenge, which is Aircraft-Route Alignment. At the centre of this, are the A340-500 aircrafts in Arik's fleet. These aircrafts are 4 engines aircrafts, and are by no means less reliable or efficient than other aircrafts manufactured by Airbus. However, the wrong deployment of these aircrafts by Arik is the issue. There are two points to this fact. First is the route serviced, secondly, the aircrafts. The routes serviced by these aircrafts are Lagos-London-Lagos, and Lagos-New York-Lagos. These are very crowded routes. The Lagos-London-Lagos route is well served by the mainline airlines of Europe, all flying twin engine aircrafts, while, the Lagos-New York-Lagos route, though, serviced only by Arik, is still subject to competition from US carriers flying between Nigeria and the US, also operating twin engine aircrafts. These twin engines burn between 6,000 and 7,000 litres of fuel per hour, as against the A345, that burns over 10,000 litres per flight hour. The A345s also do not have any obvious capacity advantage on these routes. So, it is clear that Arik cannot compete favourably on these routes, and it needs to look for international routes, where it has comparative advantage with the use of the A345s.
If recent indications suggesting that Arik actually own these aircrafts, and only dry-leased them to Hi Fly, which in turn wet-leased it back to Arik, is true. Then, Arik's only option to profit from these aircrafts is to deploy them on ultra-long routes. These are flights that typical last 14-19 hours non-stop. A good option is the Lagos-China-Lagos route. According to the Nigeria Bureau of Statistics, in 2012, China was Nigeria's biggest import trade partner, and we don't have regularly scheduled direct flights from Lagos to China. I am not certain if a Bilateral Air Service Agreement (BASA) between Nigeria and China exist. Even so, that could be arranged using well-connected consultants.
The funny thing is that Arik has become a fringe player in its own market. This should not be the case. Arik should look at its equipment and deploy them appropriately by ensuring there is proper alignment between equipment and the route to which it is deployed. The A-345s were made for ultra-long flights. It is made to fly for so long that it is the only commercial aircraft in the world that has a mini-mortuary on board. If you are operating that aircraft less than 14 hours per segment, you are going to lose money in the current competitive environment, and Arik cannot escape that.
The second challenge is Arik's CUSTOMER SERVICE. You hardly find any Arik customer who has anything good to say about Arik's service. Most people have just resigned to accepting whatever Arik throws at them. Afterall, Arik is the only local airline flying most of the time, and has not been involved in any crash – which by the way, I absolutely think are good reasons. However, for Arik to survive as a carrier, it has to do more to improve its customer service standard. Customer service must be at the core of Arik's business, the more reason it cannot be done in isolation of other part of its operations. The improvements must be strategic in nature. It will essentially mean refocusing Arik to become a customer service company offering air travel services.
The third solution is for Arik to leverage its current goodwill to enter into mutually-beneficial partnerships. These partnerships should cut across all of Arik's operational influence, allowing Arik to expand its route network, without having to bear the cost of such expansion. For this to happen, Arik's ownership and management need to open up to the investment community in Nigeria. There are several financial partners with deep knowledge of the airline business waiting in the wings. I know this, because I am one of them. For instance, Arik can leverage its brand and carrier status to expand its route network or increase frequency on existing routes without having to pay for such expansion. There is private money ready to come in and finance such expansion, but Arik must reorganize for this to ever happen.
Role of AMCON
AMCON should apply the leverage it has over Arik to push for its re-organization. Afterall, Arik is not making any serious effort to repay its debts. However, any move by AMCON must be agreed to by Arik's other owners, including Ojemai Investment, as well as its current management. Any move to re-organize Arik must not be seen as either an ownership grab or a witch-hunt. It must be approached and implemented from the standpoint of saving Arik and the strategic position it occupies in the airline industry in Nigeria.
AMCON should after consulting with Arik's ownership and management, appoint a Nigerian COO, with 5 team members. I insist on a Nigerian COO, because I believe Mike McTighe set the airline up for the problems it is facing today. His decision to acquire those A-345s for the Lagos-UK and Lagos-US routes looks suspect to me, but I must confess that as an outsider, I am not familiar with the deal. Anyway, the COO appointed by AMCON and the team will work with ownership and management to re-organize Arik and bring it to profitability within an agreed period of time. Based on the turn-around agreement, which must be fully endorsed by the current ownership and management, AMCON should then set a timetable for exiting Arik, either through an IPO, if it becomes profitable, or, sadly, liquidation if the re-organization fails.
Arik's business model cannot continue to be based on not paying its bills, we are better than that.
Conclusion
The airline industry is a great economic multiplier due to its ability to support the emergence and sustenance of other industries – from tourism, airport business, aircraft manufacturing, etc. One only needs to look back in history to the effect Pan-Am had in the development of passenger aircrafts. Without Pan Am, there probably would have never been an aircraft called –Boeing 747. The first Boeing 747s were custom-made for Pan Am by Boeing. Arik Air finds itself in a similar situation in Nigeria today. However, its ability to act as an economic multiplier will largely depend on its willingness and ability to re-organize itself, before it dies a slow, grinding death.
Written By Victor Olapojoye
[email protected]

Disclaimer:

"The views/contents expressed in this article are the sole responsibility of the author(s) and do not necessarily reflect those of The Nigerian Voice. The Nigerian Voice will not be responsible or liable for any inaccurate or incorrect statements contained in this article."
Articles by thewillnigeria.com