14 Suspected Terrorists Killed During JTF Onslaught In Kano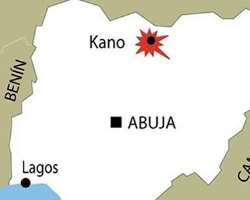 At least fourteen suspected terrorists including one woman and one female child have been killed during a raid by operatives of Joint Task Forces (JTF) at Ryan' Awaki area at Unguwa Uku in Kano State, North West Nigeria
According to residents of the area, at about 4AM Sunday morning, the compound housing the suspected terrorists was invaded by the JTF, and what ensued were heavy sounds of gun shots and explosion which lasted for over four hours.
Dead bodies suspected to be that of the terrorists were seen been carried out of the building with different guns as improvised explosive devices were also recovered from the building.
The house has since been demolished while the corpses have been taken to a morgue.
The area has since been cordoned off by officers of JTF.
Confirming the operation to journalists, the commander of the 3rd Brigade in Kano, Brigadier General Iliyasu Abbah said one soldier was killed in the onslaught while one other was critically injured.
According to the military officers, vehicles found inside the compound were primed probably for attack today during the Easter celebrations.
Some parked trucks were said to be used by the terrorists as escape measure.
Although residents were disturbed by the gun duel but they were made to lay down for their safety and no civilian casualty was recorded according to the authority.
Eastern celebration in the state is going on peacefully but for the people of Ryan' Awaki are forced to sleep and remain indoors as at 1PM.
Meanwhile security operatives have confirmed the arrest of one of the terrorists' top commander during the operation.
CHANNELSTV