House Warns Jonathan On SEC, Insists On Oteh's Sack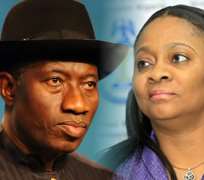 ABUJA, March 28, (THEWILL) – The House of Representatives has warned President Goodluck Jonathan against funding the activities of the Securities and Exchange Commission (SEC) , saying the president has no right to finance the operations of SEC from public coffers " or even private sources."
It also restated its call on the president to sack the SEC Director General, Ms. Arunma Oteh.
A letter written by the chairman of the House Committee on Legislative Compliance, Hon. Moruf Akinderu-Fatai, dated March 27 to the Minister of Finance, Dr. Ngozi Okonjo-Iweala, read in part: You will recall that the Securities and Exchange Commission had submitted its budgetary proposals for 2013 to the House.
"You will also recall that no approval was passed back to the Securities and Exchange Commission.
"Further to this and most importantly, the National Assembly has vide the 2013 Appropriation Act, Item 9, Part E, Clause 10 stated thus: All revenue however described including all fees received, fines, grants, budgetary provisions and all internally and externally generated revenue shall not be spent by the Security and Exchange Commission for recurrent or Capital purposes or for any other matters, nor liabilities thereon incurred except with Prior Appropriation and Approval by the
National Assembly.
"The net effect of the National Assembly's resolution item 9 Part E Clause 10 of 2013 Appropriation Act, it is ultra vires any authority or person (Mr. president inclusive) to finance the operations of Securities and Exchange Commission from public coffers or even private sources."
A copy of the letter to enforce the zero allocation given the SEC was also sent to the Secretary to the Government of the Federation (SGF), Anyim Pius Anyim as well as the Board of SEC and SEC Director of Finance and Administration .
The letter advised SEC " to refrain from making any expenditure until a budget has been approved by the National Assembly for that purpose.''
It also warned: " You may also not source and spend any monies whatsoever as this will be a clear infringement of the constitution of the a federal Republic of Nigeria and shall be viewed as such."
President Jonathan in his letter covering the supplementary budget sent to the National Assembly about two weeks ago had informed the lawmakers that their decision to make zero allocation to SEC was faulty as it should not have been contemplated in the first place.
But spokesman of the House, Hon. Zakari Mohammed, at a briefing last Wednesday insisted that the House position on Oteh remained unchanged. He said the House would have nothing to do with SEC until Oteh is relieved of her position.