Oscar Pistorius To Consider World Championships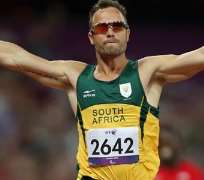 Oscar Pistorius might consider competing at this year's World Athletics Championships in Moscow, his agent has told the Associated Press.
The 26-year-old athlete, who has run at both the Olympics and Paralympics, is charged with murdering his girlfriend but will be allowed to travel abroad after challenging his bail terms.
"If he is up for it and qualifies, the World Championships will definitely be on the radar," Peet van Zyl told AP.
The event will be held in August.
Pistorius, nicknamed the Blade Runner because of his prosthetic legs, is accused of murdering his girlfriend Reeva Steenkamp, who was shot and killed at his home in Pretoria on 14 February.
He denies murdering the 29-year-old, saying he mistook her for an intruder.
The International Association of Athletics Federations (IAAF), which is the body responsible for the World Championships, told BBC Sport he would be "free to run" in Moscow in August on the "basis of the 'innocent until proven guilty' principle".
However, Nova, who organise the Manchester City Games, to be held on 25 May and which Pistorius pulled out of, said there were "no plans to invite him over".
"He's going to be the one that determines running and training,'' Pistorius's agent added.
"It's his call. He's the one under all the pressure for the court case and grieving for Reeva.''
Pistorius must meet certain conditions to be allowed to travel abroad. They include providing an itinerary of his plans at least a week before he is due to leave the country.
Pistorius was one of the star attractions at the 2012 Olympics in London, becoming the first double amputee to run at an Olympics by taking part in both the 400m and 4x100m.
The South African then won gold medals in the T44 400m and T42-46 4x100m at the Paralympics, as well as silver in the T44 200m.
The International Paralympic Committee told BBC Sport it would discuss the matter of Pistorius competing again following the Easter break.
BBC SPORT